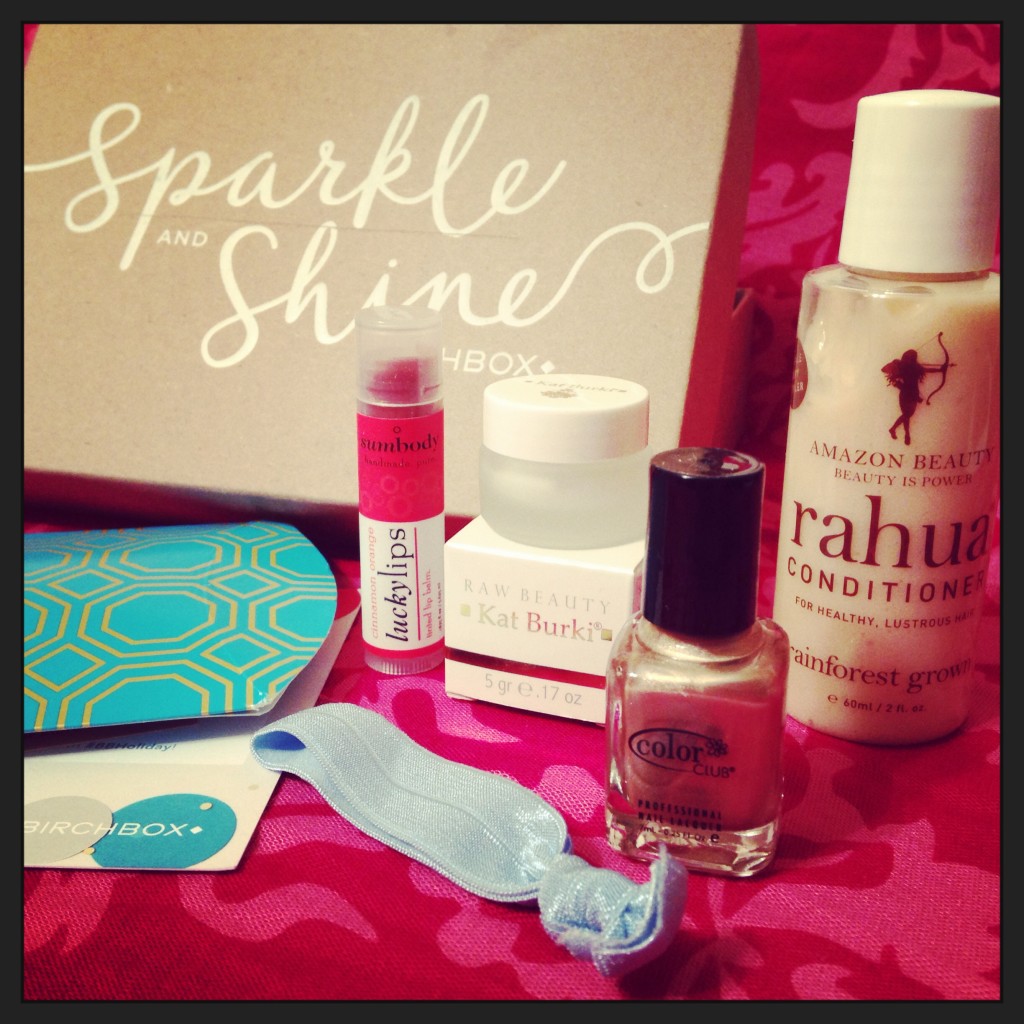 If one of your New Year's Resolutions was to pamper yourself, I think Birchbox is a great way to do this. I have been a member of Birchbox for over 2 years now, and I'm obviously a big fan 🙂
I explain it to people like a magazine subscription, except instead of a magazine you look forward to receiving each month, you get a box of beauty goodies instead! When you sign up for Birchbox, you tell them about your hair, skin, and beauty preferences. They send you 5 or 6 high-end beauty samples each month to try out. I love this idea, because I get to try some great products that I would have otherwise missed. In the past 2 years, I have discovered some of my favorite beauty items, such as Orofluido Elixir, Shu Uemura, Number 4 Super Comb Prep, Benefit POREfessional, Jouer Moisturizing Lip Gloss, and Benefit It's Potent! Eye Cream.
I've received goodies that range from hair and skin products to makeup, nail polish, gadgets, and gourmet foods. Samples that don't seem to be my style me get passed along to a friend. Once I have tried a sample, I go on to the Birchbox website and give them my feedback about the item. In return, I get points that add up to dollars I can spend in the Birchbox store on full-sized items. I saved up enough points to buy a Amika Travel Hair Straightener and Hairdryer, which excites me to no end!
Lastly, I must say that I love having Birchbox as my go-to gift for others. I have probably gifted a Birchbox subscription at least 6 times. I can buy someone a 3-month subscription for only $30, and print out the gift certificate without even leaving my home! What I will do then is grab an old Birchbox box and fill it with some goodies and the gift certificate to let my friend know to check the mail. They can then log-in to Birchbox, create a profile, and receive samples tailored just for them.
Now doesn't Birchbox sound fun? Go ahead, give it a try! If you sign up using my special referral code (I get store points), I would really appreciate it! Click here to sign up. Enjoy trying something new and exciting in the New Year!