My name is Kristen Dembroski, and I am a Reading Specialist at a middle school in Milwaukee, WI. I am National Board certified, and I also hold a Reading Teacher and English Language Learner licenses. My passion and my goal is to develop innovative new ways to reach kids and get them reading, writing, and thinking.
I have 9 years of classroom experience teaching language arts, social studies, and reading interventions. Our middle school is 'one-to-one,' which means each of our students receives his/her own iPad to use both in and out of school. I love all of the flexibility and innovation this allows us!
I completed my doctorate in 2015 in language and literacy with a focus on digital literacy. The title of my study is "Online Reading Comprehension: An Explanatory Sequential Study of Middle School Students." I experimented with the ORCA (Online Reading Comprehension Assessment), which was developed by Dr. Leu and his amazing team at the University of Connecticut.
Besides being a teacher and a mother, I also try to have a life now and again. I consider myself to be a fairly crafty person – I enjoy calligraphy, knitting, cross-stitching, and painting. I love to workout, AND I love to cook and bake; if it weren't for my sweet tooth, I might actually be able to shed a few pounds at the gym! I am a very organized person, and I love finding new ways to streamline things in our house to be more efficient. I guess that's just the teacher in me.
My husband, Ryan, is an actor, producer, and pilot. Ryan and I are always up for a great adventure. We've traveled abroad, gone on a hot air balloon ride, done a 5K and half-marathon, kayaked in the ocean, sang in a choir, gone zip-lining, flown in a two-seater plane, been in several movies and commercials together, and generally are up for any fun adventure we can do together.
Follow me on Facebook, Pinterest, and Teachers Pay Teachers!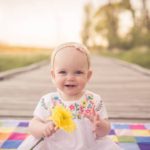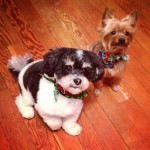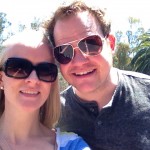 My dauther Elaine                         Rocket & Ruffy                 Me and my husband, Ryan
33,709 total views, 18 views today