So as you may know, I do sell my lesson plans on Teachers Pay Teachers. It has been a true blessing for me and for my teaching practice. I have learned so much over the past year by meeting and collaborating with other teachers, discussing important educational topics on the forums, and learning how to create engaging and targeted lessons. I always felt that my lesson plans were solid – targeted, authentic, scaffolded, and meaningful – but I never thought to take it the extra step to make it even more engaging. On TpT I have learned the value of graphic design. Color, proportion, layout – all of these things may seem frivolous at first, but they truly are not. Students live in a visual world, and anything we can do to make materials look more authentic, professional, and inviting is worth our time.
Creating lesson plans for other teachers to use has also taught me how to be more precise and clear. I always thought, "Well, I know what I'm doing and that's all that matters. I don't need to write down every little thing." It turns out that 'writing down every little thing,' forces one to be more reflective and introspective, possibly generating ideas or seeing a new perspective they hadn't considered. The monetary incentive of publishing my lesson plans (and fyi – I make very little, but I have been able to make a couple payments on my student loans) and making them available to others – having the honor of impacting students beyond my own classroom – has molded me into a better teacher. Period. I love Teachers Pay Teachers!
That being said, TpT is an incredible amount of work. I estimate that I spend at least 10 hours a week, on average, developing products, learning and communicating on the forums, on Pinterest, Facebook, blogging, responding to buyers, etc. It's a part-time job for sure, and I can see how for the very successful sellers it can become a full-time job. I am constantly thinking about how I can do things better!
I wanted to share with you a new advertising page I plan to put at the end of my products. I want teachers who purchase my products to know that I have many wonderful lesson plans and units in my store that could compliment what they are doing in the classroom. I have it organized by Adolescent Writing and Adolescent Reading, even though we all know that they go hand in hand. Most products belong in both categories, but I placed them based on the primary Common Core goals of the unit.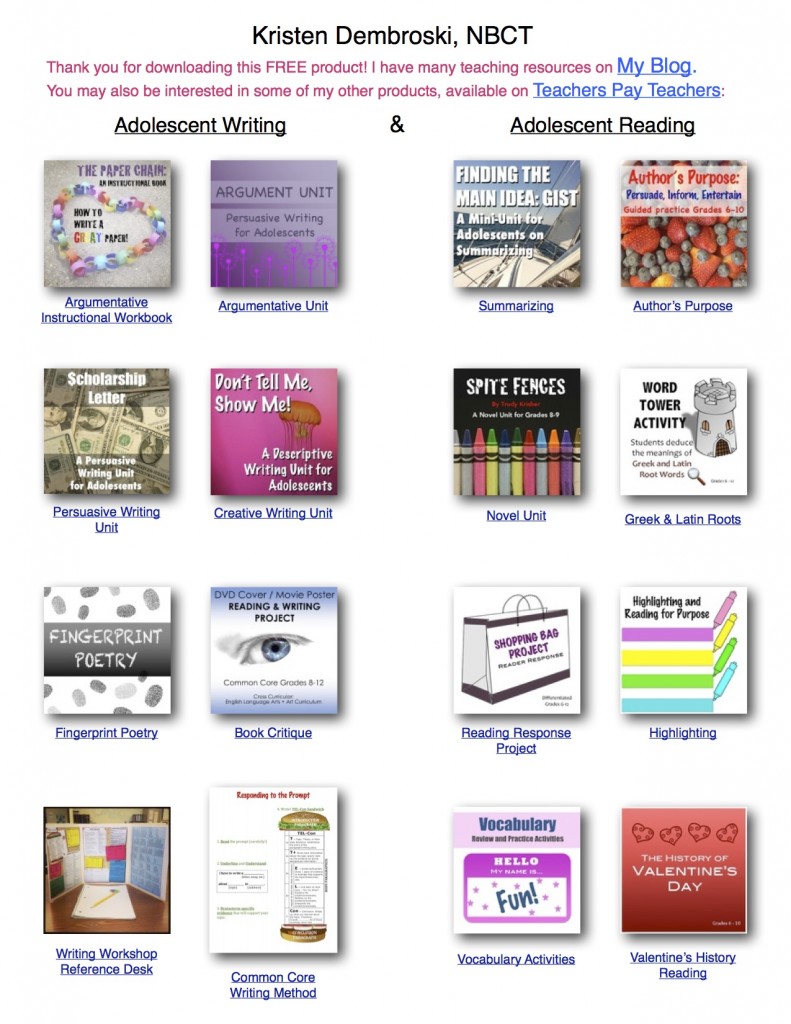 The hyperlinks work on the final document, so if you are interested in any of the above products, you can download the advertising page here. If you are a seller on TpT, you may want to consider adding something like this at the end of your products to let teachers know about the many other wonderful products you have available for them!