Having off of work is GREAT!!!! For the last 3 days, I have been cooking and baking like a madwoman. I'd love to share some photos and recipes with you. By the way, all of the food below is Paleo, which means grain and dairy-free.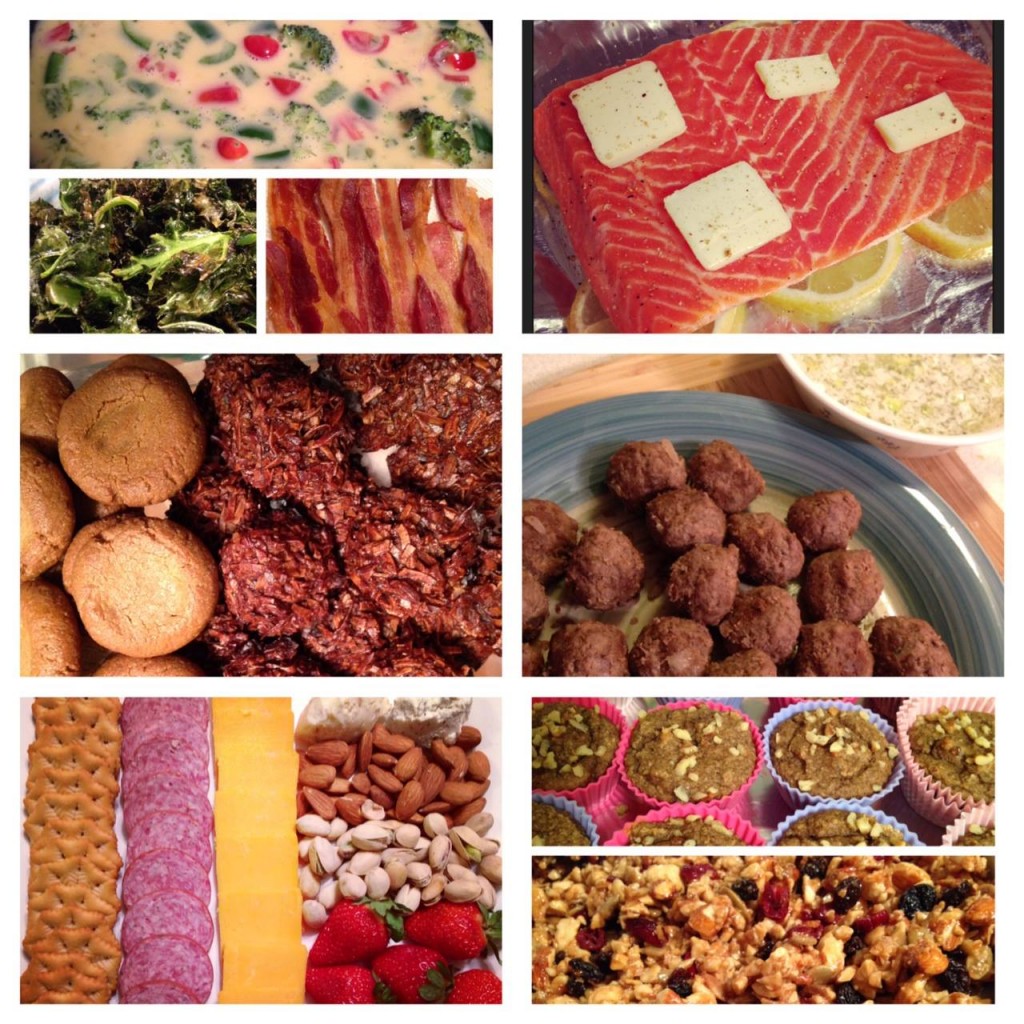 1. Vegetable Omelet – just egg, unsweetened almond milk, peppers, tomato, broccoli, and avocado on top at the end.
2. Baked Kale – delicious! Just put a bunch of kale in a bowl, add a tablespoon of olive oil, and mix. Then spread the kale on a baking sheet, sprinkle with sea salt, garlic, and ground pepper, bake for 10 minutes at 350, et voila!
3. Bacon – I bake the bacon on a metal rack on top of a baking sheet so the grease can drip off. Make sure to line the baking sheet with aluminum foil for easier cleanup. 350 for 20-30 minutes.
4. Salmon in a Bag – I cut 6 round slices of lemon to line the bottom of a piece of aluminum foil, then placed the salmon on top. I sprinkled the salmon with salt and garlic, then topped with a few thin tabs of butter. Close up the aluminum foil, and bake at 350 for 30-40 minutes until the fish flakes apart and is cooked through.
5. Cardamom Thumbprint Cookies & Peppermint Macaroons dipped in Chocolate – I am a Norwegian, so I couldn't resist trying the Thumbprint Cookies for christmas. The cookies turned out fantastic, and I will add that you really need to beat the vanilla frosting for at least 10 minutes to get the consistency you desire. I plan to add red and green food coloring for something festive 🙂 The Peppermint Macaroons turned out deliciously as well, but I will use less peppermint extract next time. Dipping the bottoms in dark chocolate (and licking the spoon!) was the best part!
6. Gyro meatballs and Tzatziki Sauce – this is BY FAR my favorite thing I have made! I used high grade ground sirloin, and I also pan-friend them after baking them to give a nice brown crisp to the meatballs. For the Tzatziki sauce, I used coconut milk instead of coconut cream or yogurt, and this was a mistake. It still tasted fantastic, but was a bit watery.
7. Party Tray – I made this for a party I attended. Crackers, 2-year aged cheddar, salami, goat cheese, almond cheddar spread, pistachios, almonds, and strawberries. Obviously the crackers and cheese are not Paleo, but the rest is proof that you can enjoy Paleo snacks with your friends!
8. Banana Nut Muffins – these are mostly just bananas and eggs with very little flour. They taste pretty eggy to me, but perhaps I should have used more ripened bananas. They are great warmed up with a touch of butter.
9. Homemade Granola – My husband and I just love this. It is absolutely better tasting than any granola I have ever purchased. I will make this again! Next time, though, I will add more nuts because there is quite a bit of the honey-mixture to go around.