I have been absolutely in love with cooking and baking lately. I've gone from being an 'everything-from-a-package' girl to a 'home-made' girl, and I hope I never go back! I honestly didn't know I had it in me. I used to just think I was a terrible cook, and I didn't want to set myself up for failure. The thing is, I come from a family of great cooks – my mom, my grandma – and I just wanted to make them proud and live up to our family name.
So, I decided I was going to practice and practice and teach myself to be a good cook. These past 2 weeks, I've baked salmon, brined and roasted chicken, created a butternut squash soup from scratch, baked homemade cookie bars, made protein bites, chili, braised beef, baked acorn squash with homemade applesauce, julienned zucchini spagetti, cooked waffles, and on and on and on. My husband loves it, because the fridge is always full of wonderful healthy foods 🙂
I've been pulling out all of these gadgets that people gifted us for our wedding, but I never used. I am finally using our stand mixer regularly, as well as our waffle iron, blender, food processor, tools like a zester, masher, and press, and – as always – my beloved crock pot.
Now that I have my kitchen operating at full-steam, I see there are a few items I would like to add to the already-stuffed cupboards. Below is my current kitchen wish list – oh a girl can dream!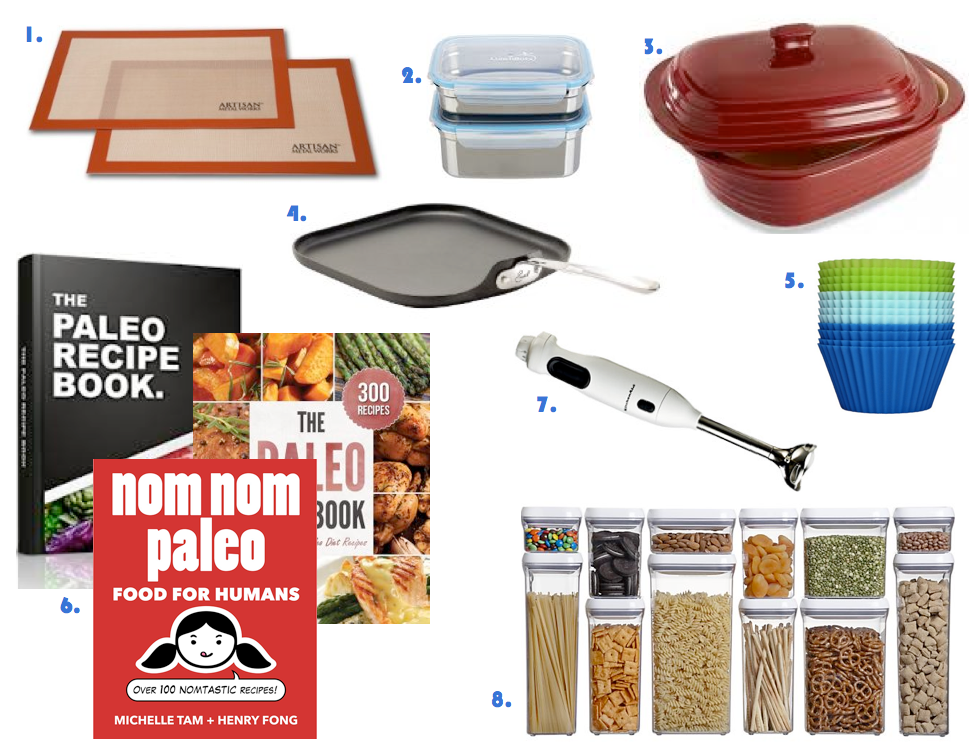 1. Silicone Baking Mats
2. Lunchbots Leak Proof Containers
3. Pampered Chef Dutch Oven
4. All-Clad Iron Griddle
5. Silicone Baking Cups
6. So many cookbooks! Nom Nom Paleo: Food For Humans, The Paleo Cookbook, The Paleo Recipe Book, Against the Grain, Well Fed 2, and so many more!!!
7. Immersion Blender by Kitchen-Aid
8. Oxo Food Storage Containers
If you could stock your kitchen, what would be on your wish list?
3,409 total views, 2 views today