Wherever you are in the world, you may be aware of the winter disasters happening all over the south and midwest. My sister was stuck in Dallas for 2 days waiting for a flight back to Wisconsin. Here in Milwaukee, the highway is a parking lot, and the snow is falling heavily and consistently. My mom was supposed to go to work today, but after spending 45 minutes on the highway and getting no where, she called in and headed home. I hate thinking about my family out in this weather – it makes me so nervous!
I haven't left the house…. or my pajamas (tee hee). The dogs are doing their best to cuddle and stay warm, too.
I've been cooking and baking ALL morning and afternoon. Sometimes, the cooking bug just hits ya and you gotta go with it, you know? I figure something like, "Hey, the oven's all ready warmed." Or, "The kitchen's already a mess." Even, "I've already opened the bag/can/jar of __, may as well just finish it?"
So yeah, I went a little nuts. Here is what I've made this weekend so far. Everything is Paleo friendly – only whole foods, no grains, gluten, dairy, or refined products. (Click on the list below for links to the recipes):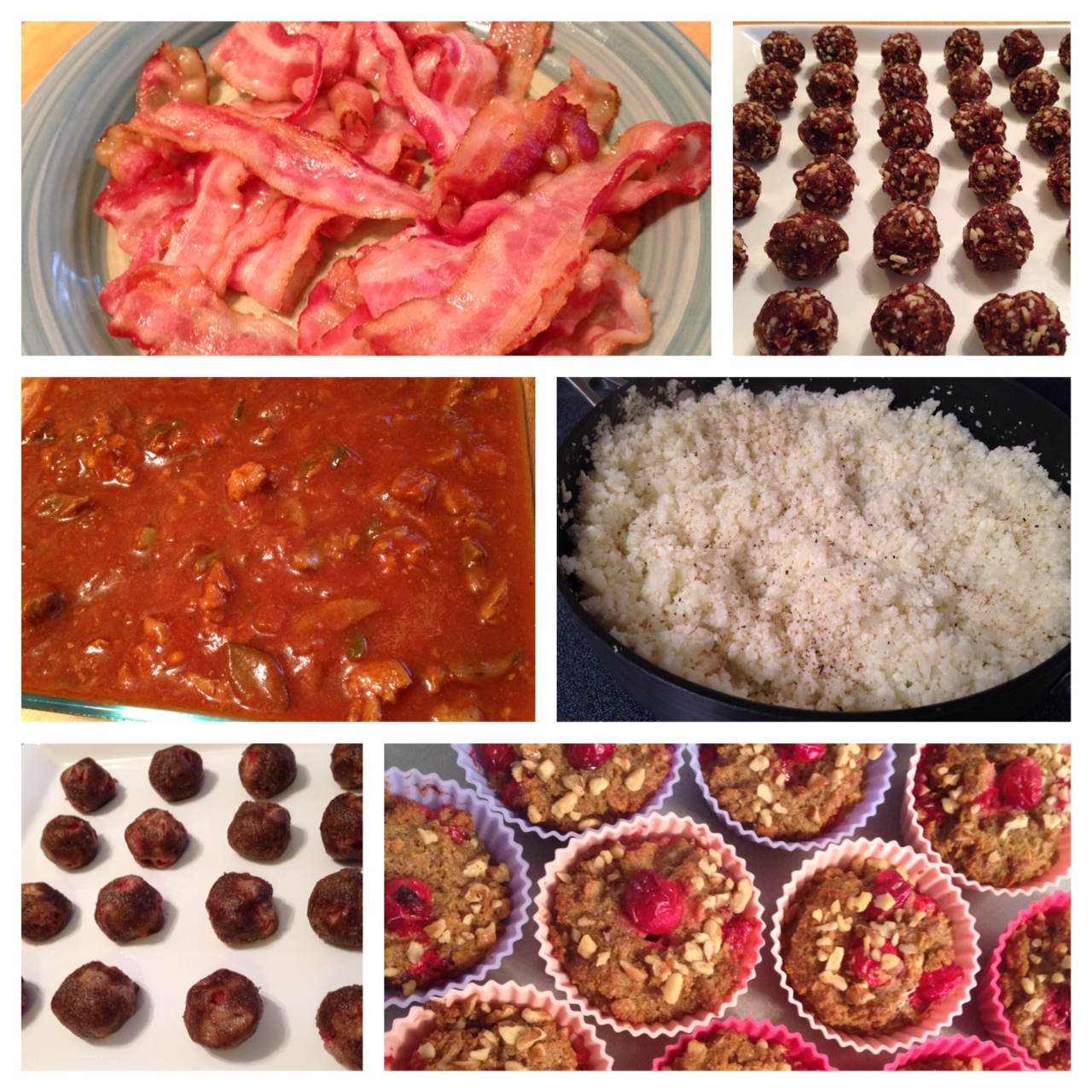 1. Bacon! In the oven, I lay the bacon across a metal drying rack placed on a baking sheet to allow the grease to drip. 25 minutes at 350 degrees.
2. Energy Balls These were supposed to be bars, but they weren't holding together very well. Maybe they needed a touch of coconut oil? Consists of: almonds, cranberries, figs, chocolate chips.
3. Heart Chili This recipe took a while – browning the ground beef, sautéing the vegetables, then searing the beef cubes. It was not a 'just throw it all in the crock pot' kind of recipe, but it does taste delicious.
4. Cauliflower Rice A delicious Paleo alternative to rice. I will say that my food processor sure got a workout this weekend! I didn't have all of the spices the recipe called for on hand, so I just used sea salt, ground pepper, and cajun spices.
5. Strawberry Protein Balls These are a hit with my husband. I don't think they'll keep very long, so I am going to enjoy them quickly.
6. Pumpkin Cranberry Muffins I love taking these to work for a quick and filling breakfast. And you know what else I love? My new silicone baking cups. I'm never going back to paper! And now I need to buy the blue pack too (hint: these are a great stocking stuffer for the foodie in your life)!
With all this food in my fridge, I still sit here hungry, not sure what to eat! Ah, dilemmas dilemmas. Maybe I'll bake some salmon 🙂