Hip hip hooray – Another Friday!
Lots to celebrate this week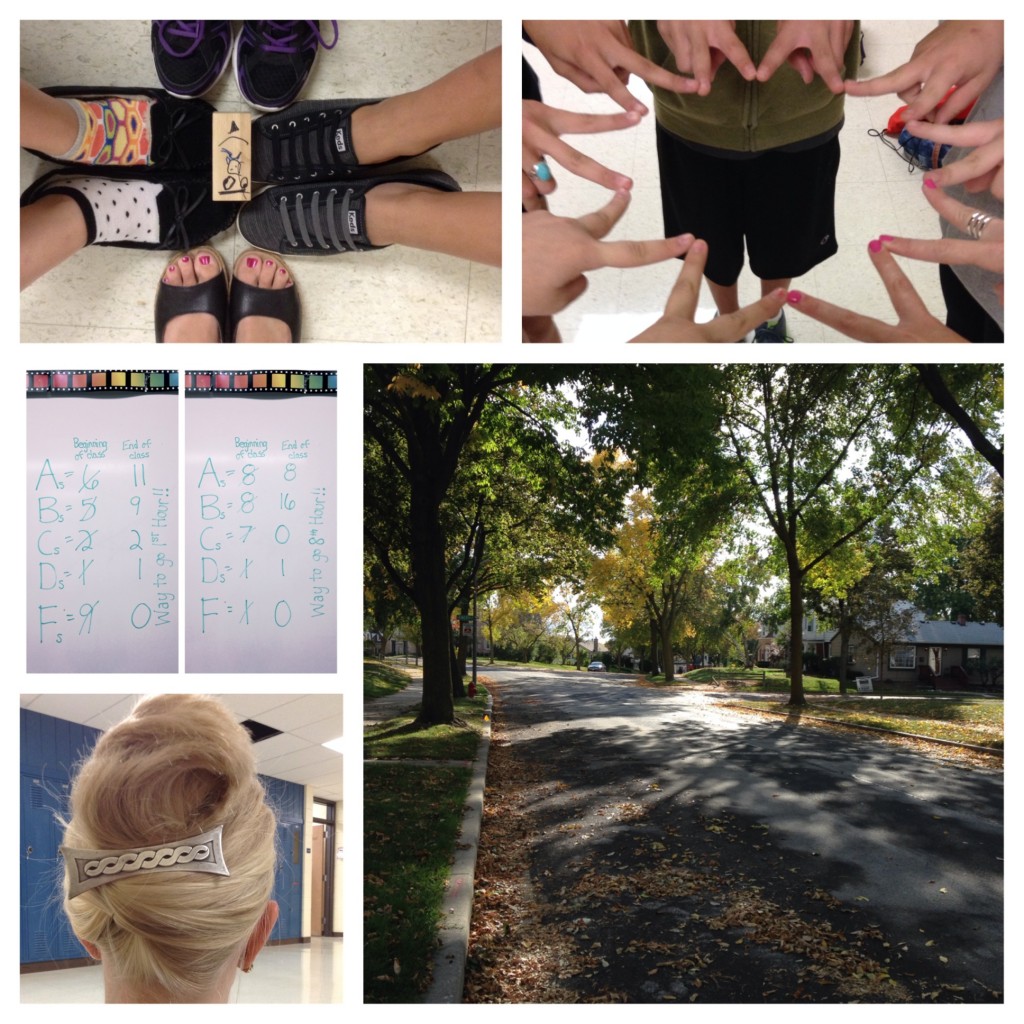 1. School Duty: Are you blessed with an extra school duty? I have morning duty for first quarter. This means I get to monitor the 'holding tank,' a hallway in which students must stay before the first bell. I used to be pretty disgruntled about this – I mean, every second before school is precious time to set up my room, prepare materials, and get ready for the day. I am trying to reframe my thinking these days and cherish my morning duty instead. I actually really love hanging out with my students. I get to learn so much about them. Building relationships with my students is a cornerstone of my teaching, and this is a critical time where I can check in with students and hear about how things are going at home, problems they are having at school, or just sharing some laughs. Yesterday, my students wanted to use their iPads to snap some fun photos. On the top left, we used our feet to make a star, and on the top right, we made a giant star with peace signs. I'm the pink nail polish in both, of course!
2. Rewind, Pause, Review Day was such a success! (Read more here.) I am still so proud of my students and so grateful we took a day to get caught up. Progress reports were due today, and I know a lot of students who are going to get to keep their cell phones and video games thanks to improved grades …
3. French Twist Oh La La: I cut my hair 4 years ago for Locks of Love, and I've been keeping it short ever since. It's just SO much easier to take care of, especially with the thick, heavy, wavy huge head of hair that I have. But my husband asked me if I would grow it out again, and I'm giving it a try. I was so happy to discover that I can do a French Twist again! Tres chic!
4. Fall: Yeah… I don't usually have many nice things to say about Fall. But, since it is High 5 For Friday and the point is to find the silver lining, I will make a confession. I really do enjoy the satisfying crunch of golden leaves under my feet. When I take Rocket out for a walk, I deliberately hop from small crispy pile to pile.
5. Reading Interventions: I am making some real progress in creating a reading intervention system for our students. This year, I was freed up from the classroom for 1 hour a day to become our school's Reading Specialist. I am defining my job as I go, which is lot like building a plane as I fly. I started by identifying all of the students who performed below the cutoff on our recent MAP Reading test. Then I deleted the ones on that list who already receive any other kind of support, like Special Education, Speech and Language, or Read 180 (a reading program). That left me with roughly 15 kids per grade level. Now I am deciding how to best serve those students through pull-out reading tutoring, small group interventions, additional testing, etc. Phew – my mind is swimming! But the good news is that I am making progress, and we are finally going to have a plan to address the students whose needs are not being met in any other way.
How was your week? Feel free to link up in the comments below!
1,756 total views, 1 views today