Well, we've made it through our first full week with the iPads. It's amazing how different things are. And by different, I mean… more interesting, more engaging, more efficient, more work, more planning, more troubleshooting, and more patience needed. The students are really doing an amazing job with this. We continue to work out the bugs and get every student up to speed (get everyone on the network, equipped with all of our required paid apps, set up with email, Google drive, Infinite Campus, ebackpack, etc.). Despite a few glitches here and there, the kids are working like pros, picking things up very easily. Here they are working in my classroom on a journal entry at the beginning of class.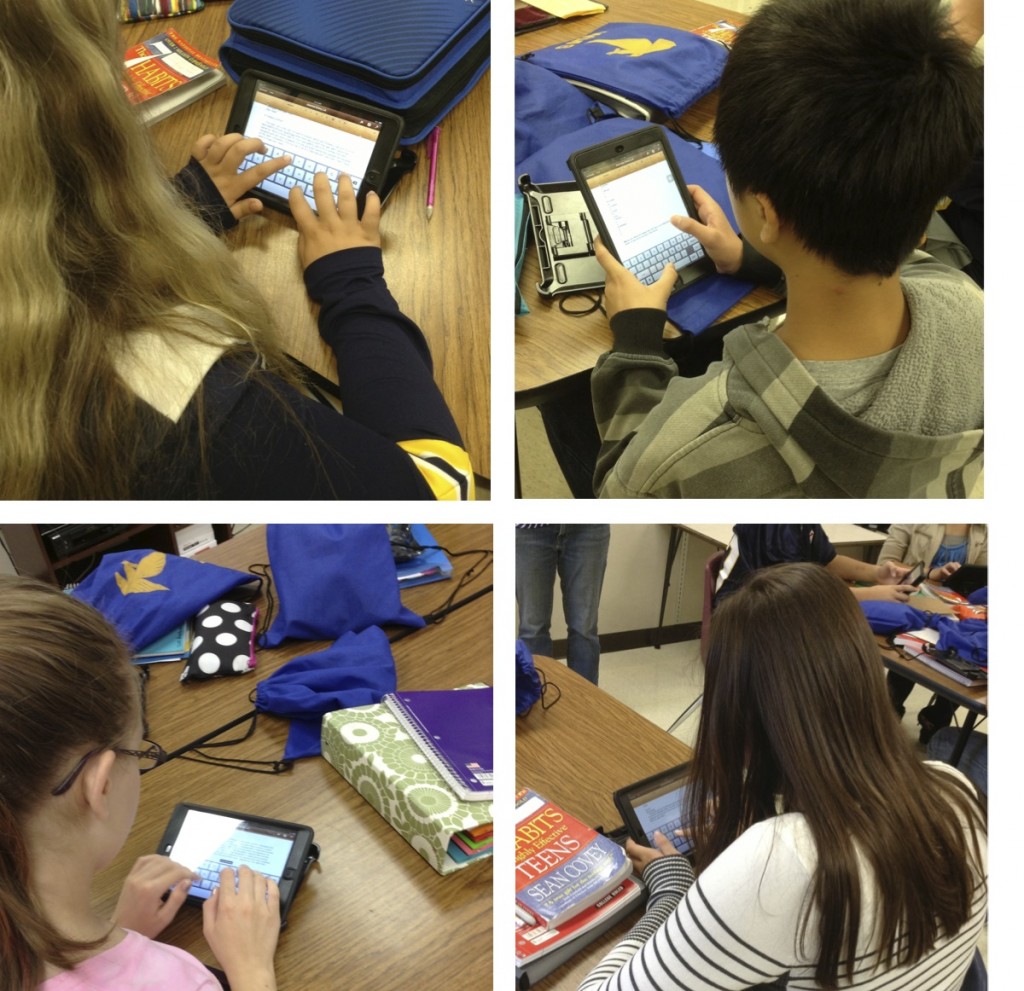 Each day, at least 1 student forgot their iPad, or forgot to charge it. I think once they experience a day of going without their technology, they will not be doing that again! We do have some extra charging cables and extra iPads that they can check out of the library for the day, but they see how inconvenient this is – the rented iPad doesn't have any of their 'stuff' and settings on it.
BTW, I've only had to use my Tech Time Out once!
As the students are becoming more accustomed to their iPads, they are having a lot of fun playing. They explore new apps, find new games, and have something new to share each day. At the start of each class, I have to remind students to exit their game apps and prepare for learning. Currently, we are working on making a list of 'Teacher Approved Apps' or apps that can be used when all possible homework is done, and the student has done their independent reading for the day.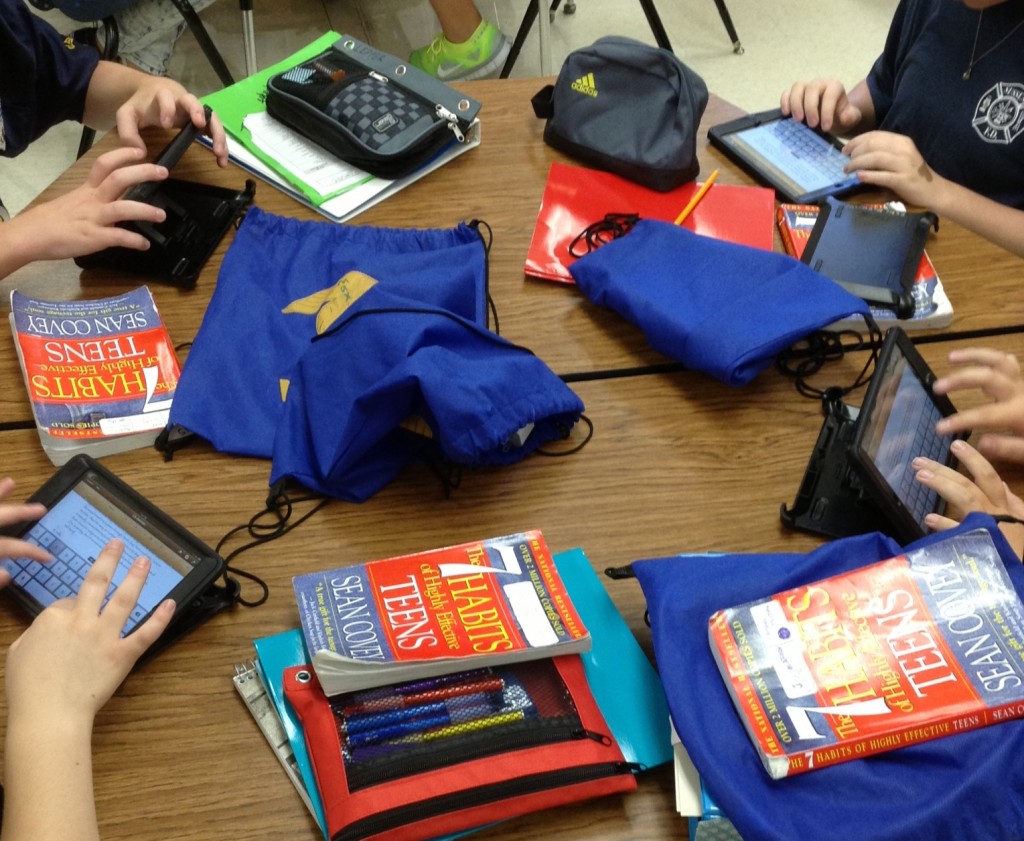 So what have we been doing on the iPads all week? Each day, we start class by adding a journal entry to a document that they started in Pages. As we have been reading our first book, The 7 Habits of Highly Effective Teens by Sean Covey, students are also taking notes on their iPads. I love that we can find images on the internet to accompany their notes, which allows them to think creatively, build connections, and construct a deeper understanding of the book. And let's not forget that we have the world of knowledge at our fingertips – we can stop and search for any information we may need, use http://www.dictionary.com , research real people who exemplify the 7 Habits, and create Educreations videos to jigsaw the reading.
During Homeroom time, students use their iPads to keep up on their academic responsibilities. They are given 10 minutes at the end of each day to:
* check Google Calendars – all teachers keep a calendar of their daily activities and homework
* sync their Google Calendars with Calenmob – an app that makes their calendars available offline
* download their homework from ebackpack
* check and respond to any emails – I've sent each of my students an email this week to test
* check Infinite Campus (our online gradebook) to make sure they are current on their assignments – nothing missing or late
With the iPads, students are really in the driver's seat when it comes to their education. There are no obstacles, no excuses. Even being absent isn't a problem anymore – everything you need is online!
Things appear to be going great so far this year. Students are looking ahead in Google Calendars to see what we will be doing in class that day, emailing me questions and comments, and doing all of their homework paperlessly. I am so proud of them, and I can't wait to see what else this year has in store for us!