I'm always on the hunt for healthy, low-calorie, filling, tasty, creative, and efficient ideas for school lunches. Above all, my lunch has to be 'grab and go' style, because it's the last thing on my mind at 5:15 in the morning when I wake up for work. When I'm really tired, I know I gravitate towards more unhealthy choices, so I do my best to prevent this. I've found that the key to packing great lunches for my work week is to plan and prepare everything over the weekend. Some might say it looks like a lot of work, but it actually saves me time in the long run as well as gives me peace of mind throughout the week.
Usually on Sunday, I'll make my grocery list and do all of my cooking. One of my favorite lunch options, especially in colder weather, is soup. It's warm, filling, and – if you choose more broth-based soups – low calorie. I make my soup even healthier by what I call Hacking My Soup!
I typically start with a Bear Creek soup mix (Tortilla and Minestrone are my favorite):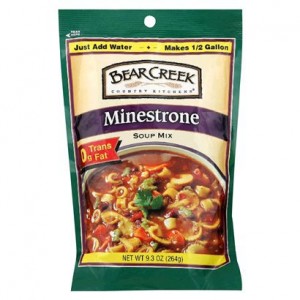 I only make half of the soup mix for one week's worth of lunches. I add 1/2 to 3/4 pounds of cubed chicken, then every single vegetable left in my fridge and freezer. I divide the soup into five 2-cup pyrex glass containers, which go in the fridge, ready to grab-and-go. I've been told by friends that they think eating the same thing for 5 days in a row would get pretty boring. My response is that it's only 5 days (I do a new recipe every week), 5 days isn't that long when you like what you're eating, and that I'd rather eat the same thing than have to worry about making a lunch every day! Plus, you probably eat the same thing for breakfast every morning, so what's the difference really?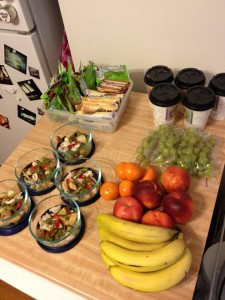 I also pre-wash (and bag) all of my fruit for the week – a great mid-morning snack. Lunch this year is at 12:30, and that's a loooong stretch from my 6am breakfast! I wash the fruit in 50/50 vinegar/water rinse, then a pure water rinse. Not only does the vinegar kill all of the bacteria, but I find that my fruits last at least twice as long (especially the berries). I absolutely live off of berries until late in the season when they become too expensive, then I switch to apples and bananas. You may have seen my previous post on dehydrating fruit, which is a great option for preserving some seasonal favorites.
Another thing I like to do is to have a plastic tote filled with individual snacks, ready to grab. Everything is all in one spot, individually packed.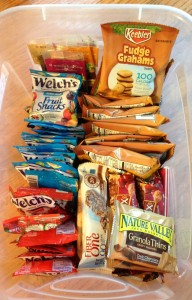 My favorite grab-and-go snacks are:
*fruit leather
*real fruit roll ups
*fruit snacks
*100 calorie packs of just about anything
*granola bars
*nuts
*dehydrated fruits
*individually wrapped prunes.
Last week, I tried salads. They were a lot more work than soup, but who wants soup in the summer? I prepped all of the ingredients so I could make each salad the night before to prevent them from getting soggy. I have heard about salad in a jar, which I may need to explore! Even so, I would still want to add a protein (chicken or egg) the night before. I bought these handy salad containers, which have a spot for holding a fork and dressing.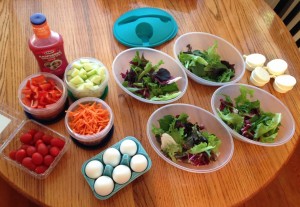 Ingredients for this week's salad include: Spring Mix lettuce, cucumber, red pepper, shredded carrot, grape tomatoes, hard-boiled egg, and grilled chicken. Voila, the final product: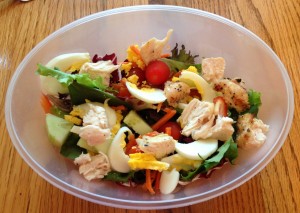 There are 40 weeks in the school year, and I do my best to rotate recipes and try new healthy, low-calorie, filling, tasty, creative, and efficient lunch ideas throughout the year. Here is a list of my favorite lunch options (I always add LOTS of veggies!):
*Tortilla Soup
*Minestrone Soup
*Salads with Chicken, Salmon, or Egg
*Chicken Stir Fry
*Spaghetti with mixed vegetables
*Pad Thai
*Orzo, Tomato, Asparagus, (and Chicken)
*Couscous Chicken and Grilled Veggies
*Vegetable Pizza – I love Amy's!!
*Chicken Pot Pies
*Chicken Fried Rice and Vegetables
*Squash Ravioli
*Quinoa Sweet Potato Salad
*Egg Salad with vegetables
*Shrimp Penne Rosa
*Crockpot Pot Roast