I am going to tell you an embarrassing secret. Last school year, I worked out…. 18 times. Total. For the entire school year. And it was always on a weekend. That's really sad!
I just needed some motivation, right? I thought I WAS motivated. But it turns out, just wanting to be healthy (okay, skinny!) isn't enough. And thinking about all the money I was wasting by paying the gym and NOT showing up wasn't enough of a guilt trip, either.
So I tried what any good teacher would do. I set goals, a schedule, and created a reward structure. If I worked out 'x' amount of times, I would reward myself with a new workout shirt, etc. The problem with this is… I am in charge of the system. And I lie, cheat, and steal. I am not a reliable coach of myself. I can talk myself out of or into just about ANYthing!
This blog post is all about what DOES work for me; what keeps me active, motivated, and working out an average of 3-4 times per week. The Cliff's Notes: competition, money, goal-setting, multi-tasking, and mental escape.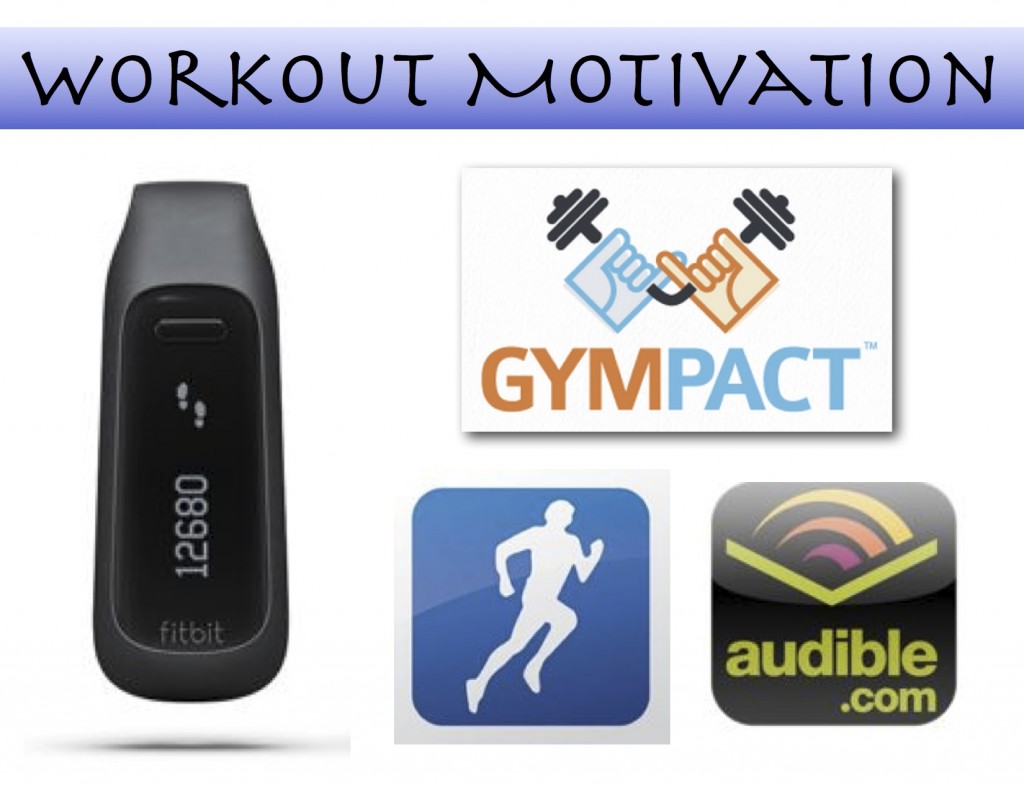 1. Fitbit One
My husband bought me a Fitbit One for Christmas, 2012. I haven't taken it off (other than to shower) since. What is it? I describe it as a fancy schmancy digital pedometer. It records my steps, activity level, flights of stairs, and sleep. This all syncs wirelessly with my phone or computer. I get immediate feedback on my levels of activity. I set a daily goal (10,000 steps, 10 flights of stairs) and do what I have to do to make that goal. Fitbit sends me cheerful push notifications (like texts) to my phone, letting me know when I am nearing, meeting, or exceeding my goal. It's like getting a gold star! Who doesn't love the positive feedback?
What's brilliant about Fitbit is the social aspect of it. My mother and sister both own a Fitbit and use it as religiously as I do. Our activity level is displayed on a virtual leader board. We three women are pretty competitive, so it's always a tight race for first place. My sister is training for a half-marathon right now, and I'm beating myself up trying to keep up with her! After dinner, I'll check the leader board and see who 'winning'. I may then take a walk, run some stairs, pace while I brush my teeth, volunteer to take the dog out again – whatever I can think of to get in more steps and get to the top!
Here's a leader board example (note who is in first place!! muahaha!)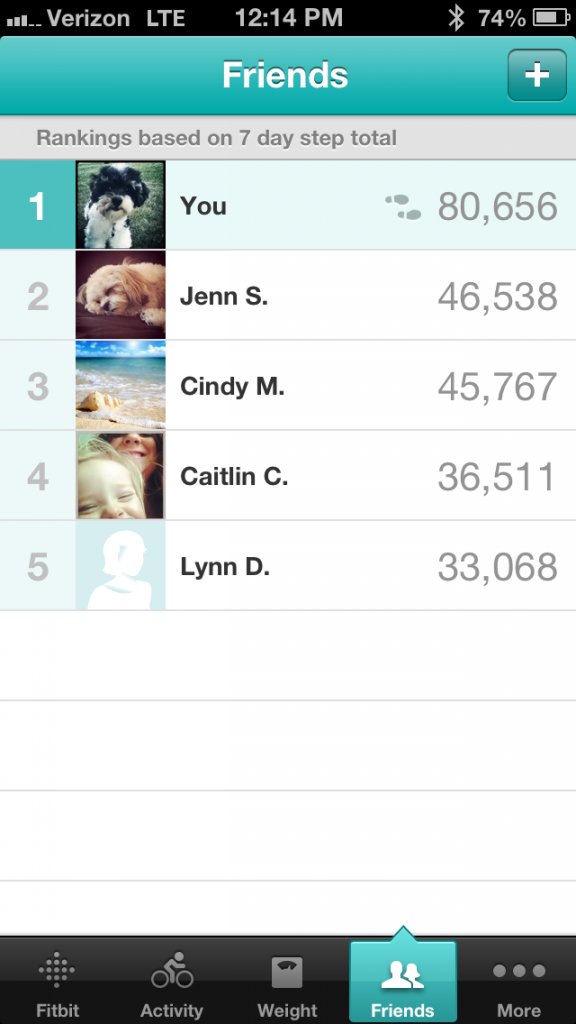 Conclusion: Fitbit motivates me to stay in shape by encouraging me to meet my own goals and by competing with others.
2. GymPact
If Fitbit keeps me moving throughout the day, GymPact actually gets me to the gym to work out. GymPact is an app for your phone that PAYS you to work out. I've made over $33 in 3 months. That may not seem like much to you, but it is a great bonus for me!
I describe GymPact as a way of gambling about working out. Let's say I am willing to bet that I can work out 3 times next week. The minimum I can bet per workout is $5. So 3 x $5 = $15 total that I am willing to put on the line, promising that I will work out 3 times next week. GymPact is linked to your Paypal account, so believe me when I say that if you don't make good on your bet, they will charge you. As it turns out, the threat of losing $5 because I am too lazy to work out is pretty darn motivating! I have not been charged EVER, because I am so stingy with my money that I'll be a monkey's uncle if I ever miss a promised workout.
So where does the income come from? Think of it as a 'losers pay winners' sort of situation. GymPact collects from the people who didn't make their workout pledge, then divvies that money up amongst those who did keep their pledge. You can make about $0.30 to $.50 per workout – it varies on the week. Once you have reached a balance of $10, you can withdraw your earnings to your Paypal account and buy yourself something nice – you earned it!
Here is a screenshot of my GymPact app from a week this summer when I was able to work out 5 times: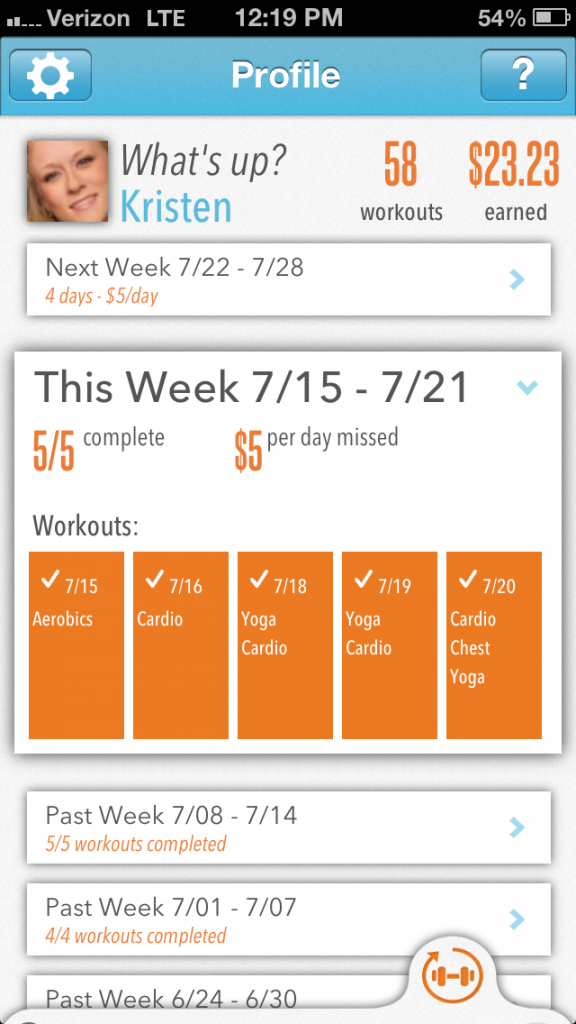 Conclusion: GymPact motivates me through cold, hard cash!
You might be wondering – how does GymPact know if I am working out or not, huh? Well, the app requires that each workout is a minimum of 30 minutes and has GPS verification that you worked out. That means either 'checking in' at the gym with your app, or syncing GymPact with another app that tracks when you walk/run. And that app is…
3. RunKeeper
RunKeeper is an app that tracks your run/walk via GPS. When I leave my house, I simply hit 'Start' on the RunKeeper app. The app tracks my pace, location/route, splits, duration, and even allows me to enter notes and a picture when I complete my activity. As with Fitbit, I can set a goal for myself, which RunKeeper tracks for me. The app will give you verbal notifications of your progress as you walk/run, but I turn them off for peace and quiet. Once I've hit the 30 minute mark, I head home and complete my workout. RunKeeper then syncs with GymPact and let's them know what I worked out, which counts toward my GymPact pledge. Sweet!
Here is a screenshot of my RunKeeper app, showing the distance and times for all of my recent runs/walks: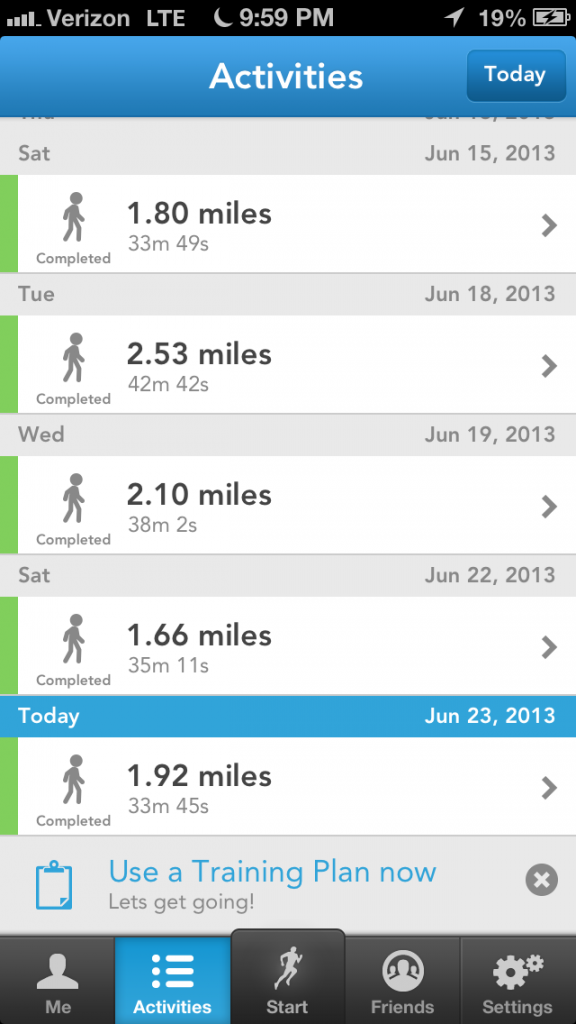 Conclusion: RunKeeper motivates me through goal-setting and syncing with GymPact
Wanna know what I listen to when I work out? Hint: It's not music!
4. Audible
I LOVE to read. As a Language Arts teacher, this only makes sense. But I don't often have time to actually sit down and read a book. I make time, of course, because that is very important. However, Audible allows me to consume more books than by reading alone. Audible is a an Amazon company that sells audio books. Payment is linked to my Amazon account, so that's easy enough, and the books download through 'the Cloud' right on to my phone. Easy as pie!
What's brilliant here is that I have made a rule for myself. I am only allowed to listen to an Audible book while I am moving. What will happen is I will get really hooked on a book and want to listen more. BUT, in order to do that I've got to get on my running shoes and start moving! It's a lovely motivation, and I know that I am doing something great for my body AND my mind at the same time.
Listening to books also keeps my mind focused while I work out. When I listened to music, it was too easy for my mind to wander and start to realize, 'Hey – working out kinda stinks! I wanna stop!' I'd stare at the elliptical or the clock. With the audio book, I can close my eyes and let my mind travel to a far away place! The 45 minutes on the treadmill/elliptical go by in a snap, and sometimes I go even longer because the book is at a really great spot!
Conclusion: Audible motivates me by allowing me to multitask and by taking my mind on great adventures!
Some other things I have learned about myself:
5. I need to work out on my way home. If I go home first to change or relax, I am never getting back in my car.
6. I have to pack my workout clothes the night before. I always keep a set in my car. To make things more efficient, I have also considered putting workout outfits in gallon-sized Zip-loc bags so they are ready to go, no excuses.
7. I tell someone I am going to work out. It just feels horribly disappointing to tell a coworker that you are heading out to the gym, then go straight home and plop in front of the TV.
Final Thoughts: 
I started out with just my Fitbit, but I slowly added in the other apps. I now use all 4, and I work out about 3-4 (often 5) times per week. I feel SO much better than I did last year when I was a big ole' couch potato. Now I never even consider missing a work out. I hope you find some of these tips helpful! Enjoy your endorphin rush!