I had the privilege of attending the WSRA Wisconsin State Reading Association again this year. I wish each and every teacher could have this experience!
Keynote: From the Cocoon to the Butterfly: How Readers, Writers, and Good Citizens Are Made, Not Born
The convention began with an invigorating keynote address by none other than the famous children's author Mem Fox. She honored us with a passionate and joyful reading of several of her children's books, including Possum Magic, Ten Little Fingers and Ten Little Toes, Whoever You Are, Tough Boris, and Wilfred Gordon McDonald Partridge. A common thread throughout her presentation was that children deserve to be read to (yes, all ages, even the bigs!), and they deserve to hear the glorious language of real writing. She is saddened to think that children believe basal readers are real books (no wonder they say they hate reading!). She called basal readers "loathsome rubbish" and "banal words dragging themselves in single file across an arid page." HA! 
More important than selecting a book at a student's current reading level is selecting a book at a student's interest level. Mem encourages teachers to lift their students up by exposing them to beautiful language and books that have a 'reward' – students deserve literature that inspires them to laugh, cry, think, and wonder. "Great art communicates before it is understood" – T.S. Elliott.
She shared with us an interesting anecdote about a time she was working on publishing a book through Scholastic. Her language had read, "I adore you." and the publisher asked her to change the word 'adore' to 'love,' which is more common and readily recognized by students. But what a mistake that would be! Give students new and beautiful words to consume. They may not understand them right away, but they can by the end of the book or through repeated exposure. And this is how students learn! We need to use language to give students wings.
Session 1: Dyslexia: Definition, the Research Base, Perspectives, and Points of Contention by Donna Scanlon
This session was very eye-opening, especially since my school is in its first year of recognizing and addressing the needs of students with dyslexia. We previously only offered comprehension intervention, and this past year we have adopted a program that we are using with small groups and 1-on-1.
Dr. Scanlon shared several interesting conclusions that she has drawn from her reading and research. Most eye-opening to me was that Scanlon would like to retire (or at least redefine) the term 'dyslexia' as a lack of response to intensified, appropriately targeted instruction. Let's break that down. Within research, the terms 'dyslexia' and 'reading disability' are often used interchangeably. Research has projected that approximately 20% of the population has dyslexia, which has been traditionally defined as a phonological processing disorder. As we know, the purpose of reading intervention is to help these students improve their reading abilities and bring them up to grade level. Theoretically, intervention should be effective for the majority of this 20%. If a student is able to improve his/her reading abilities and function productively in the classroom, what is the purpose in labeling them as having dyslexia? We should reserve the term 'dyslexia' for the few students with reading difficulties who do not respond to effective reading intervention. Overusing the term 'dyslexia' is not only non-inclusive and may serve little purpose or benefit to the student, but it can destroy a student's motivation and their willingness to do a task (reading) they are told is a challenge for them.
So let's talk about effective reading interventions…
Scanlon had several important criticisms of the one-size-fits-all Orton Gillingham based reading interventions that are widely used by school districts to address the needs of students with significant reading difficulties. Many of these programs teach phonics and phonemic awareness in isolation. They prevent or discourage students from relying on contextual clues to decode words (a strategy that students with weak phonological processing skills often rely heavily upon), and yet this is an important strategy that students will need to use to be effective independent readers. There is also a lack of consistency across different teachers and different programs, and students may become turned upside down with different approaches and terms (ex: capital letters vs. upper case letters, naming conventions, or sequencing of sounds / skills).
Readers vary on a continuum of abilities and need different levels and types of support in becoming strong readers. What works for some doesn't work for others. The traditional OG-based interventions are used as a one-size-fits-all approach, which can't meet all the needs of all of our students. These methods can also be quite laborious and cumbersome, when we can simply teach students that there are – for example – 3 'a' sounds (long, short, schwa), and if one doesn't make sense, try one of the others! No need to overcomplicate things with so many rules and processes.
What Scanlon does recommend as effective is explicit instruction in phonological awareness coupled with reading strategies that help students to transfer these word attack skills to their reading in the classroom (she calls this method "Interactive Strategies Approach"). This method relies on the teacher's knowledge and professional judgment to make thoughtful decisions about what students need. This method could include pre-teaching a word attack strategy that students will need in an upcoming independent read, so that he/she can immediately apply the target skill. It also involves explicit modeling and coaching as teachers guide students in working through difficult reading obstacles. Instruction should also focus on acquiring high frequency sight words and gaining automaticity in decoding. Overall, instruction must be responsive to student's needs, and canned programs don't cut it for everyone.
If you're still reading (I know this part is detailed and dry), and you want to know something you can do right now to help every student in your class, Scanlon recommends hanging up this simple sign (but please note – letter reversals is not the defining characteristic of dyslexia, and many young students struggle with letter orientation).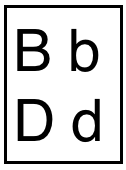 Session 2: Dishing Up Dialogue: Discussion-Based Strategies for Student-Centered Learning by Suzanne Porath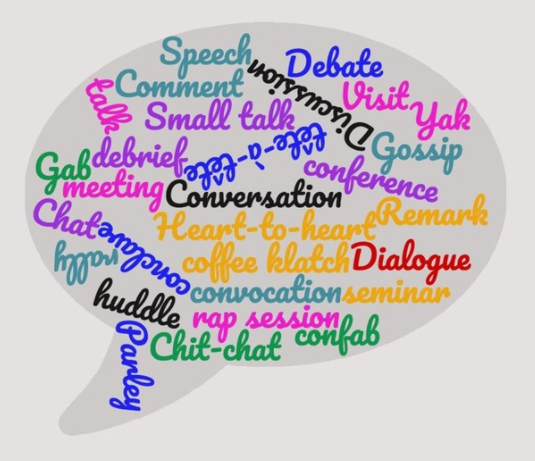 I chose this session because I want to learn more about supporting my students in becoming stronger, more critical thinkers. I know that can't happen readily in a lecture-based setting, and it's so critically important that teachers allow students the time to process big ideas through collaborative discussion.
Porath began by defining dialogue as when people come together to construct meaning and seek to understand (not just respond to) one another. Dialogue requires follow-up. For many of us (adults AND students), dialogue has become about waiting for our turn to speak, and not taking the time to listen and understand – and that is a skill that we can model and help our students to acquire!
Do you use Lucy Calkin's units in your classroom? If you do, you probably make the anchor charts for your classes. Consider – what if you actually invited students to help you make the anchor chart? What if you did the lesson backwards, and had the students deduce what it is you are highlighting in this lesson? That would certainly spur more discussion!
Porath also encourages you to really consider what you need students to write/record, and what you can simply have them discuss. That traditional assignment of reading a book, picking a character, and having them write up a personality trait with evidence – couldn't we have more FUN by talking it out with a partner? And you know that traditional assignment where you read a book and have to answer a set of written discussion questions – couldn't we invite the students to develop and answer their own discussion questions in small groups? All of this would help them to develop interpersonal, collaborative, and discussion-based skills of listening and responding thoughtfully.
To have an effective, productive, purposeful conversation, the following need to be in place:
Build trust.
Create a physical space that encourages interaction.
Set expectations of respect.
Model turn-taking
Teach active listening strategies
Provide scaffolding (sentence stems, anchor charts, templates, graphic organizers).
To model and practice these discussion skills, a fun idea could include listening and responding to a storybook read by a professional actor, presented on http://www.storylineonline.net/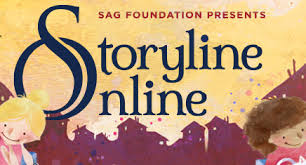 And finally, discussion should have a purpose to move you forward as a person. It shouldn't be a performance, but rather an experience. After a discussion, ask your students to reflect on whether the discussion changed them, challenged them, or confirmed their thinking (from Reading Nonfiction – Notice & Note Stances Signposts and Strategies).
Session 3: Sneaking in Social Studies: Fusing Social Studies and English Language Arts
I was very excited to attend this session, because next year our district is moving toward perosnalized learning and 'blocks' of classes to allow for more flexibility. An exciting organizational outcome of this will be combining English Language Arts and Social Studies into a "Humanities" block. Therefore, I wanted to learn as much about this concept as I could.
I had a few important takeaways from this session to share with my colleagues:
Consider what we are already doing in ELA that is actually Social Studies based (ex: reading primary sources, engaging in debate, analyzing society and/or human environment interaction, etc.) – you are already heading in the right direction!
Reorganize the curriculum around themes, not events
Focus on essential questions (Wiggins & McTighe) to guide your curriculum
Reconsider the materials you are already using, and consider making some swaps
Adopt project-based learning strategies
Sacrifice breadth for depth
Delve into CER: Claim, Evidence, Reasoning
Consider what you can afford to cut from your ELA and SS curriculum
A final takeaway that I treasure from this session is the concept that there is a wider spectrum than the traditional FACT vs OPINION dichotomy. Instead, consider
verifiable information

(instead of facts. this information can be corroborated or proven true.)

inferences

(instead of opinions. these are conclusions based on evidence and/or reasoning.)

judgments

(are sensible conclusions or evaluations that are personal opinions.)

Example: My mom's birthday is on Friday (verifiable information). She loved the cookies I made her last year

(judgment). This year I'll surprise her with dinner at 6pm, because she usually gets home from work at that 

time (inference).