Ah, the dreaded student presentations. Not for you, the teacher – You are so excited to see the fruition of students' hard work. You can't wait to see all of the wonderful ideas and revelations and evidence of learning. The students, on the other hand, are simply waiting to 'get it over with.' And when they are not presenting, they are sitting there, totally checked out, waiting for these hours, nay days, of presentations to just end already.
I know that many of you have excellent, tried-and-true methods for livening up presentations and engaging the audience: note-taking, exit slips, peer assessment, question response, etc. For this blog post, I'd just like to share one new tool with you – Today's Meet.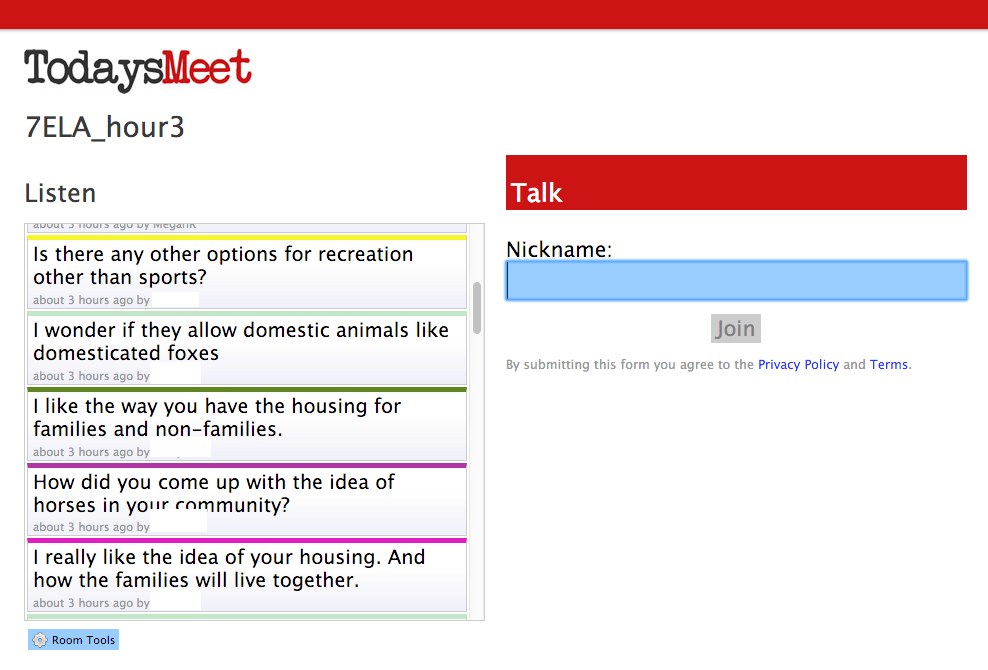 Todays Meet is incredibly easy to use. I can even set up a 'chat room' on the fly, right there in class. I simply tell my students the web address / url, and when they arrive there, they log in with an appropriate nickname (First Name + Last Initial, for instance).
During student presentations, I require every student to post one thought, either a:
Question
Thought
Suggestion
I like to have Todays Meet up and running on the projector screen behind the presenters, so we can all see what is going on. However, if this is not possible, I can also have it running on my laptop to the side. At the end of the presentation, the presenters can check the Todays Meet feed and choose 1 or 2 posts to respond to for the class. For more advanced or practiced students, one member of a presenting team could be fielding important questions on Todays Meet during the presentation as well.
Benefits:
Students have a directed purpose for listening
Students are engaged in the presentation
Students can record their questions or thoughts as soon as they think of them
Students can engage in a back-and-forth discussion in the chat room
You can print out the transcript
Challenges:
It requires modeling and instruction up front – be clear about expectations
While students are typing their question or thought, they may miss a bit of the presentation
You need to 'Let Go!' of your expectations of proper spelling and grammar
It's another fun and efficient tool to use to keep the student audience engaged, to gather useful feedback for the presenters, and to keep students thinking about the content of the presentations. You may be pleasantly surprised at the thoughtful responses students pose to one another, showing yet another layer of learning!
I bet you can think of hundreds of ways to use this online tool to engage your students in deeper thinking and connecting. Book chats, anyone?