While in Delaware this weekend, we decided we simply HAD to visit Winterthur (pronounced Winter-tour or Wint-a-tour if you're in a big ole' hurry). Winterthur is a house museum of American material culture and handcrafted, decorative arts as well as a sprawling 60 acre garden. Winterthur was founded by Henry DuPont – yep, 'the' Dupont family with their vast family fortune. Mr. DuPont, who inherited Winterthur, lived from 1880 to 1969 and made Winterthur into the treasure it is today. During his lifetime, he expanded Winterthur into a 175-room mansion filled with historic architecture (that he had transported piece by piece from other historic houses across the United States) and decorative arts (such as George and Martha Washington's china).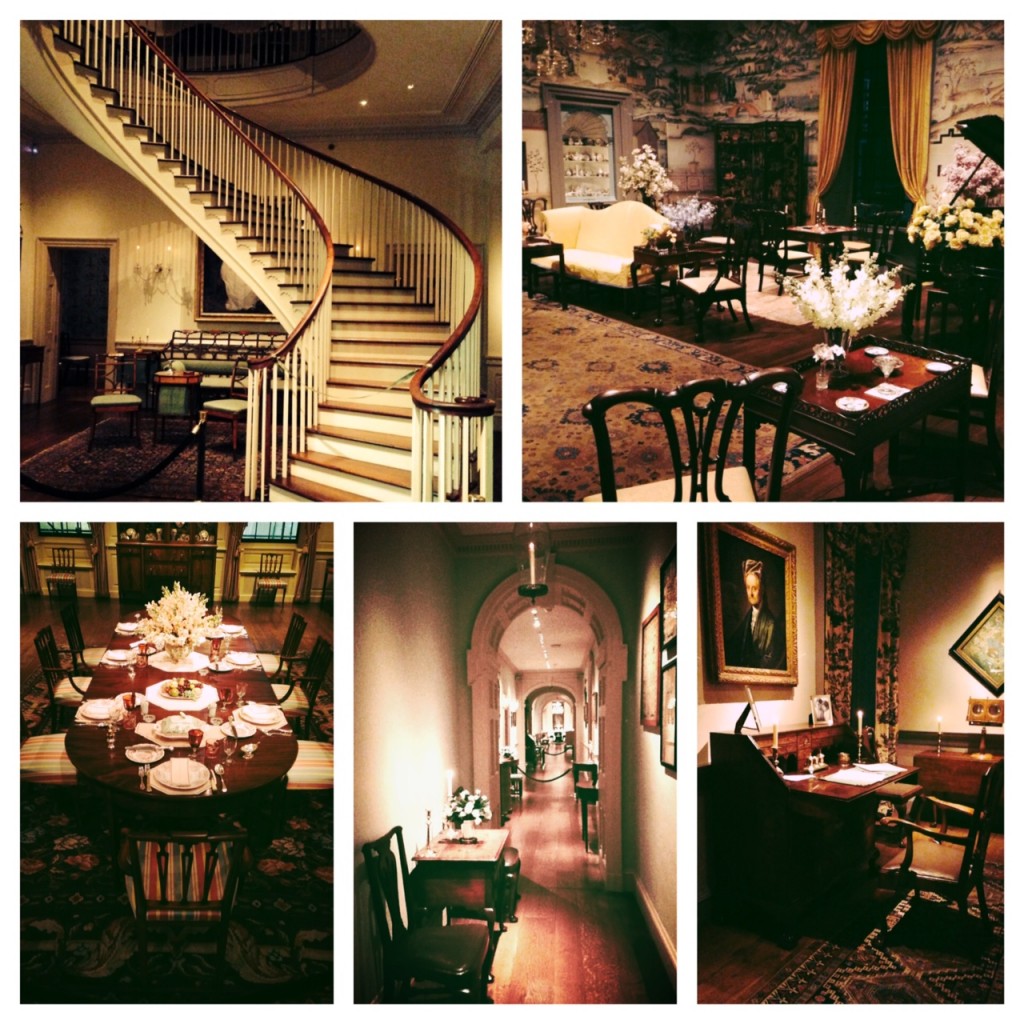 There are 6 floors, and we toured the 2 floors that contained the DuPont's living quarters and guest rooms. We viewed the grand double staircase, the sitting room where the DuPont's enjoyed the wedding receptions of their two daughters, the dining room (the DuPont's kept on staff one footmen for every two houseguests), several tea rooms and sitting rooms for playing bridge, pianos, fireplaces, and other beautiful bedrooms and staircases. Each room is exquisitely decorated. I loved learning that during the Great Depression, when many families had to part with their beloved family heirlooms, DuPont saw to it that – since he had the means and the desire – he rescued as many handmade and historical American artifacts as he could and painstakingly had everything restored and displayed within his museum/home. I'm certain you could spend days there and see barely a fraction of what this museum has to offer.
Since my friend Erin and I are both Art History majors (and she is a curator of decorative arts and material culture at a museum), we were both completely geeking out at all the beauty. There were original American Chippendale furniture, wallpaper transferred from China, tea sets, handcrafted embroidery, original wood flooring, chandeliers imported from Europe, silver services, and so much more. After our house tour, we visited the Downton Abbey exhibit.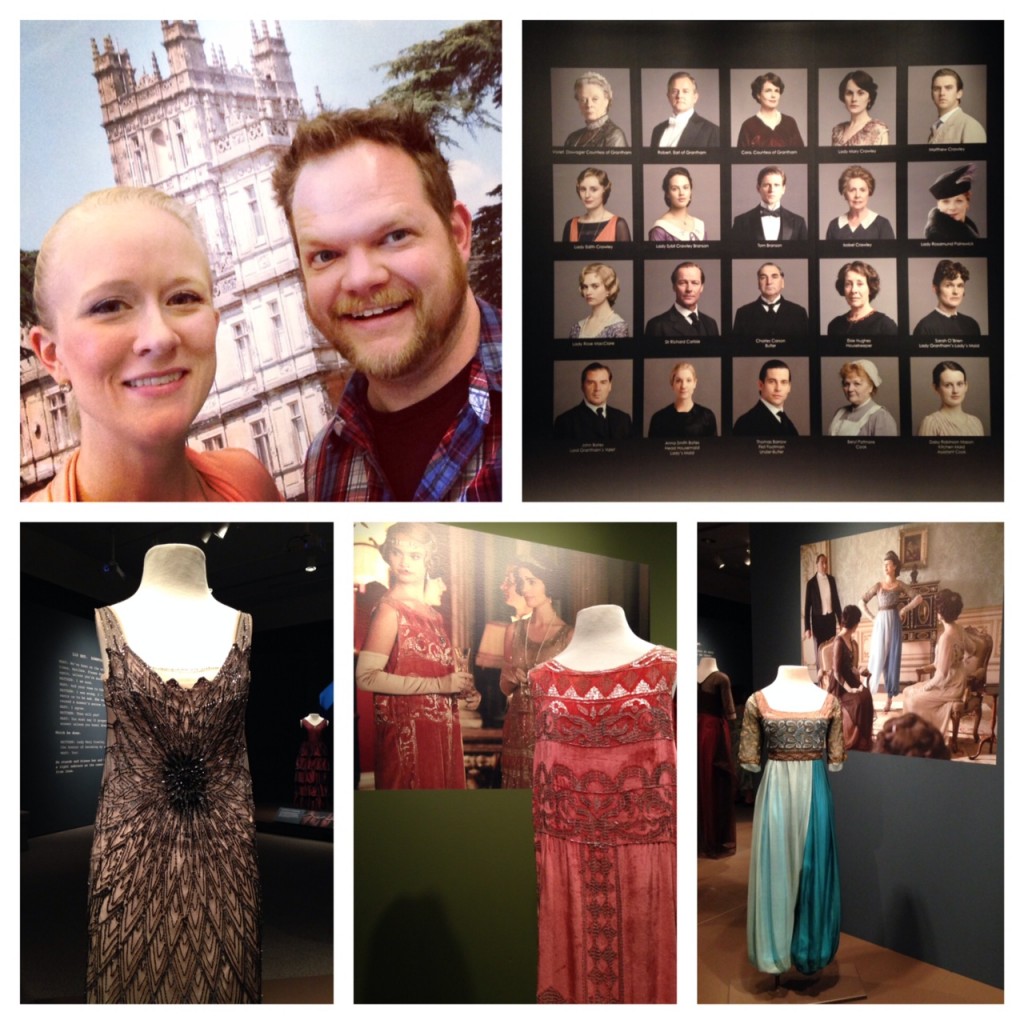 We learned that the director of Winterthur has a connection with the director of the Downton Abbey show on PBS, and he conceived and curated the idea for this Downton Abbey costume exhibit at Winterthur. It is not a traveling exhibit, and the costumes will be returning to England after this exhibition. We just HAD to go and see it! And I tell you, it did not disappoint. There were costumes from nearly every character on the show as well as detailed explanations of the meanings of colors, fabrics, cut, and style. It was interesting, for instance, to juxtapose the Flapper-inspired, controversial dress of Rose's character with the dowdy and voluminous dresses sported by Isabelle Crawley – displayed just a few feet from one another. I also enjoyed how several displays incorporated a video projection of key scenes from the show in which the costumes were featured.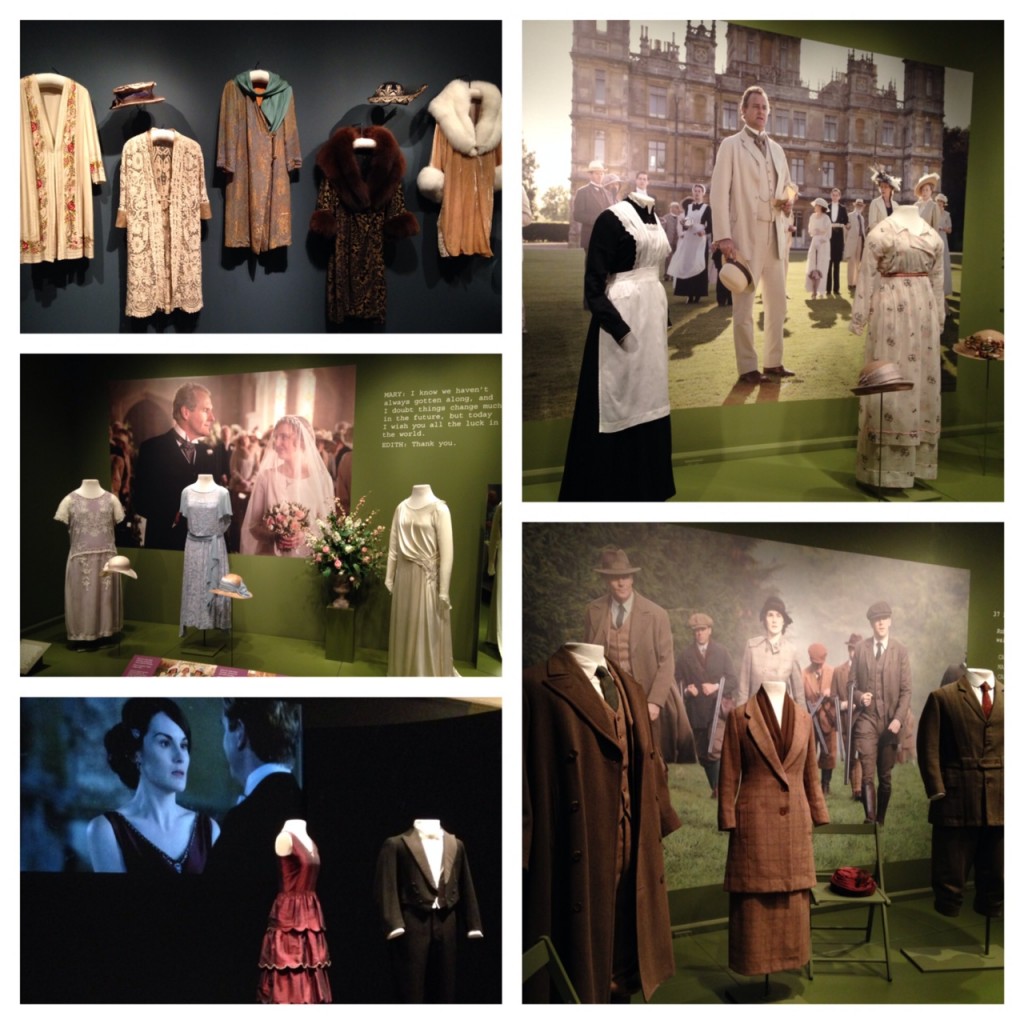 One thing I learned, for instance, is that lavender is the color of mourning. This is why the women of Downton don lavender gowns to George's christening, since Lady Sybil has recently passed. I also learned that women were required to wear corsets at all times (no big shocker there) except between the hours of 5pm and 7pm after a long day of outdoor sporting activities. She would have to endure the corset again for supper, but it's nice to know ladies were granted a brief reprieve.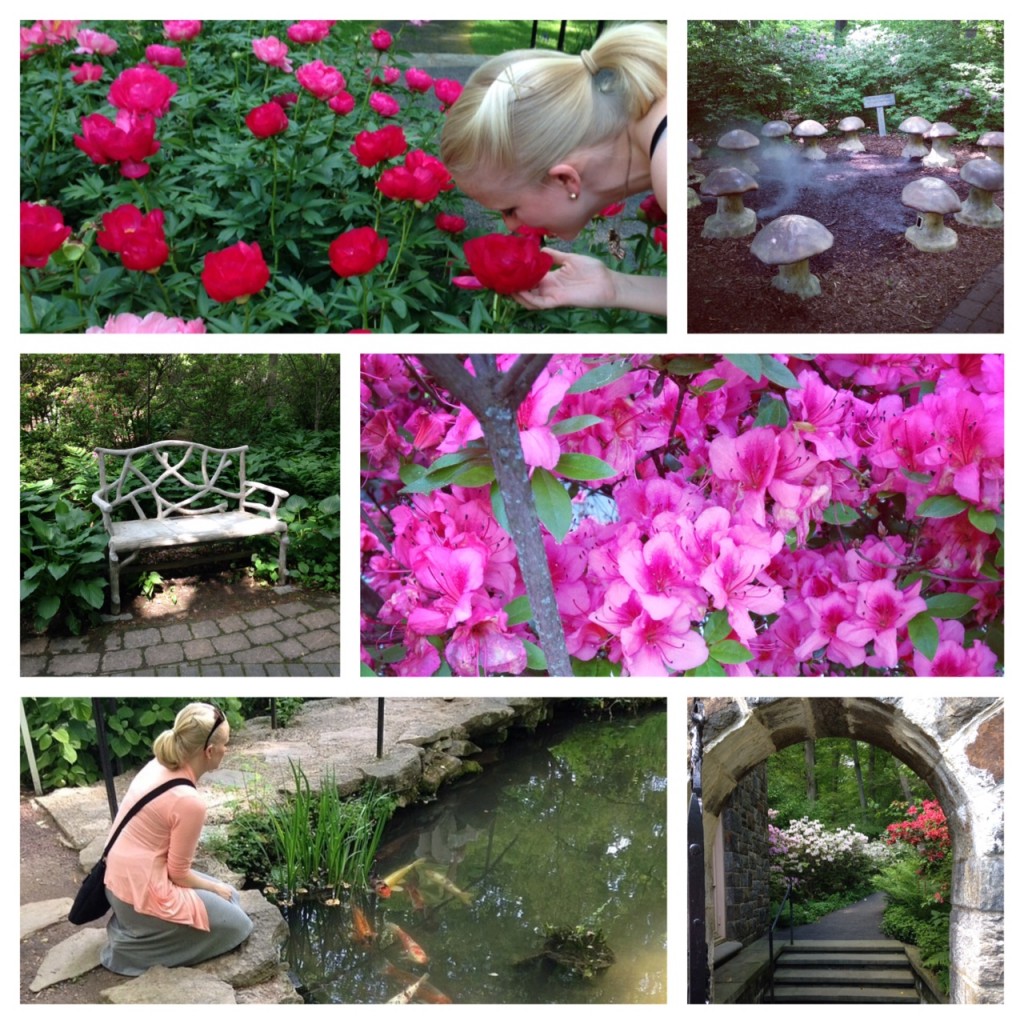 After touring the house and Downton exhibit, we retired to the gardens for a few hours of leisurely strolling and sight seeing. DuPont was also a trained horticulturalist, and he designed each of the gardens, paths, and views throughout the 60 acre estate. The peonies were in full bloom, as were most of the azaleas. We enjoyed the Enchanted Woods, Pinetum, Azalea Walk, Reflecting Pool, Koi Pond, and many of the historic and impressively large trees (one is 250 years old!). The Enchanted Woods is adorable with little faerie homes, a giant bird nest, bridges inhabited by trolls, and a faerie circle of mushrooms – it is said that if children enter a faerie circle, they may disappear! (sensors produce a mist so the child appears to 'disappear' into thin air!). Everywhere you look there appears to be a bench or a perfect place to curl up and enjoy the view, have a picnic, or read a book.
One story I enjoyed in particular was in regards to an old redwood tree on the property. At one point, the tree became diseased and might have died. DuPont – from his love of nature and preservation – decided to save the tree, so he called in an arborist. The arborist devised a plan that is akin to a root canal – he bored out all of the diseased interior of the trunk, flushed the cavity with a light bleach solution, then reinforced the tree with rebar and many tons of cement. The plan (though ridiculously expensive) worked, and the tree is still thriving to this day.
I would highly recommend that you visit Winterthur if you find yourself in Delaware – it is well worth the time and money. A guide suggested that mid-April would be the most beautiful time to visit, when many of the flowering plants will be in full bloom (such as the cherry trees).
3,861 total views, 1 views today