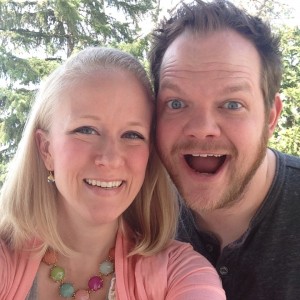 I'm back from our staycation! It was one of the most fun and relaxing Spring Breaks that I can remember. If you've ever wanted to have a fun, affordable, and relaxing staycation, I've got some tips and ideas for you!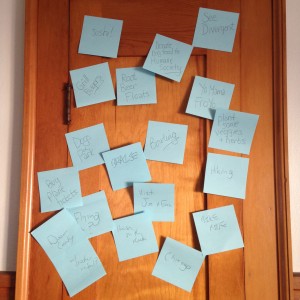 Tip #1: Start out with a plan. My husband and I made a post-it wall of ideas that we could try over our break. No ideas are bad ideas!
Tip #2: Prioritize. If you're like us, you will have a tendency to be overly ambitious. You can't do it all. Rearrange the post-its from most to least important to you
Tip #3: Don't overcommit or overbook yourself. We do that. We have one week and hundreds of friends and we want to see them all! Remember that your friends will be there next week. We decided to visit with out-of-town friends and friends we haven't seen in a long time during our staycation.
Tip #4: Plan some down time. We had 'big plans' days, and we also needed some 'down time' days in-between. 'Go-go-go' isn't relaxing or productive. I suggest alternating out-of-town days with in-town days.
Tip #5: Set a budget. Most of our ideas were practically free (i.e. take the dogs to the park), and some of our ideas were kinda expensive (i.e. spend the day in Chicago).
Tip #6: Don't plan anything for your last day of staycation. You'll want to wind down.
Tip #7: If it isn't fun, DON'T DO IT!
So here are some highlights from our Team Dembro staycation. At the end, I'll also give you a list of our ideas (of which we did about half!)
Madison – Ryan and I are both UWMadison Alumni. We got engaged at the Humanities Building 🙂 We decided to visit Madison for the day (about a 1.5 hour drive from home). On the day we visited, they were putting out the terrace chairs at the Memorial Union for the summer – a BIG event on campus! We walked up and down State Street, and I got to visit my favorite shop, Art Gecko. We also purchased some much needed Badger Gear at the University Bookstore. Then, we had a lovely dinner at the Old Fashioned and got to catch up with our besties Joe and Erin (also UWAlumni, and our friends for over a decade!). It was a lovely day filled with happy memories.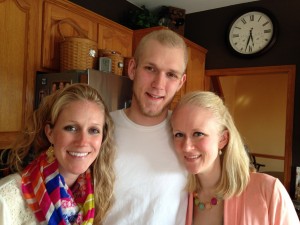 Family – I spent Easter visiting with family. We started the day at Ryan's mother's house, and ended the day at my mother's house for dinner. Above is my sister, Jenn, my brother, Stephen, and me. We had lots of great food and laughs! I love that my family all lives so close – we're only about 45 minutes away from each other.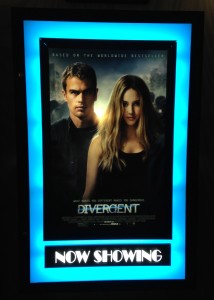 Divergent – Ryan and I FINALLY got to see the movie that has been on my calendar for MONTHS! I enjoyed it very much. I couldn't help comparing it to Hunger Games, though, and thinking that I enjoyed HG more. But I definitely am psyched for Insurgent to come out! Who doesn't love a saga?!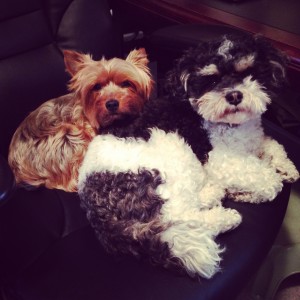 Down time – So after 'go-go-go' for a couple of days, we also needed some down time. Here are Ruffy and Rocket spooning. They are totally tuckered out after spending a day at Grandma's house and my sister's house! Too cute!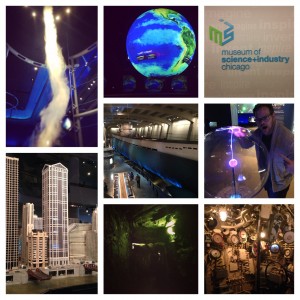 Museum of Science and Industry – Ryan and I headed down to Chicago for the day, about a 1.5 hour drive away. If you haven't ever been to the Museum of Science and Industry, you are missing OUT! Don't be afraid to NERD OUT! It was a good time. You know how most museums have a 'look but don't touch' policy? Not this one! They want you to touch everything. It's all interactive! There is a room where you can learn about storms and weather, which was my favorite. We also went on an elevator to the center of the earth to tour a coal mine, and then we got to go in an actual German U-Boat captured during WWII. They have a scale model of downtown Chicago, a Whispering Room, the history of Aviation and Bicycles, and so much to explore that you'll wish you had a whole week!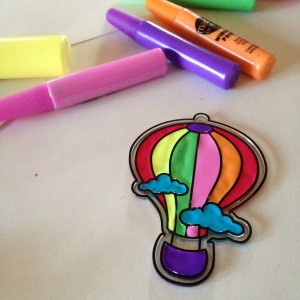 Babysitting – We also spent some time catching up with our little niece (age 6) and nephew (age 3). We played real-life Angry Birds (this involved building towers and smashing them to smithereens, watercolor painting, and making window art (as seen above). We watched Phineas and Ferb, read bedtime stories, and that's all folks.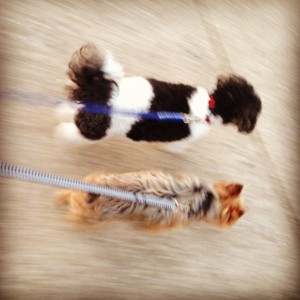 Dog Walk – The boys loved having us home for the week. They got lots of exercise and activity. Zoooooooom!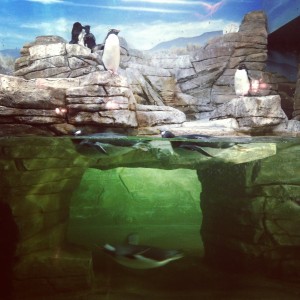 Zoo – A visit to the zoo is in order during a staycation! I saw every single animal, but penguins are one of my all time favorites. And sea otters. They just have so much fun!
Food – Last but not least, FOOD. Most of our plans had to do with food. On the left is a bacon burger with an egg and avocado, yum! We also went out for froyo, made lasagna and root beer floats, got sushi, and grilled out. It's nice to give yourself a break from cooking, too!
I won't lie, we also did some important things this week. I worked on my dissertation, graded some papers, and cleaned the house. We picked out carpet and paint for the upstairs, which we are remodeling. There's also laundry, grocery shopping, and paying bills. I know it's a staycation, but life does move on. It's just nice to not be in the ole' routine and to have the flexibility to have some fun at home!
So here were our ideas for staycationing. We only got to about half of them. Let me know if you have any new ideas to add to the list for our next adventure!
1. See a movie
2. Go bowling
3. Visit Madison / Chicago / Door County
4. Go hiking
5. Bike ride
6. Plant some herbs and flowers
7. Rent scooters
8. Take the dogs to the park
9. Donate time / food / items to the Humane Society
10. Grill out
11. Make root beer floats
12. Get froyo
13. Dress up and go out for an expensive, fancy-schmancy dinner
14. Visit friends
15. Buy plane tickets / plan a vacation
16. Fly a kite
17. Paint a room in the house
18. Babysit
19. Go to the mall
20. Binge watch a new TV series
21. Visit the zoo
22. Visit a museum
So what new ideas would you recommend?
3,828 total views, 1 views today