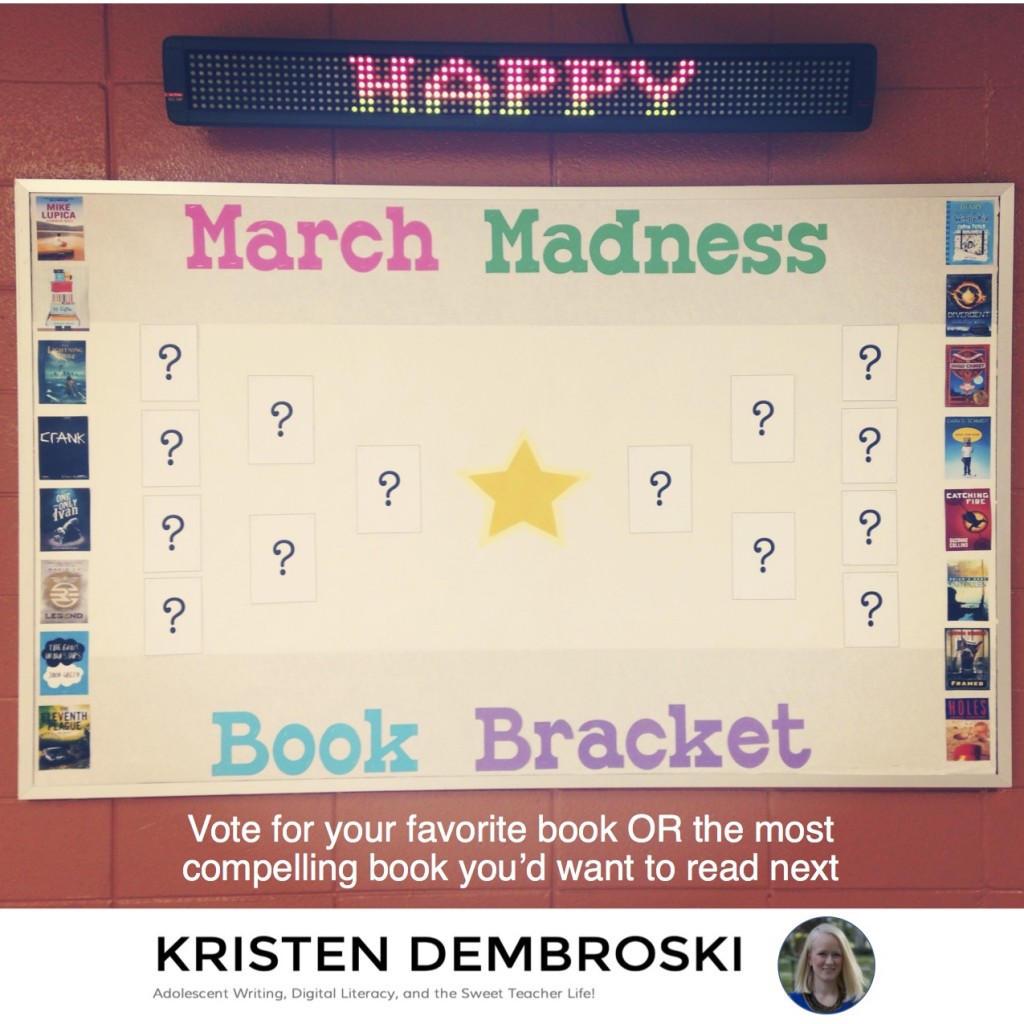 Well I am VERY excited to share a new school wide reading project with you. I created a March Madness Book Bracket for our middle school (grades 6-8). I figured – hey, the kids are really excited about their NCAA brackets. Why not capitalize on their excitement and direct some energy toward books and reading? Of course!
I began by asking our school librarian for a printout of the most popular (checked-out) books at our school. This is our list (in random order):
Summer Ball – Mike Lupica

13 Gifts – Wendy Mass

The Lightning Thief – Rick Riordan

Crank – Ellen Hopkins

The One and Only Ivan – Katherine Applegate

Legend – Marie Lu

The Fault in Our Stars – John Green

The Eleventh Plague – Jeff Hirsch

Diary of a Wimpy Kid – Jeff Kinney

Divergent – Veronica Roth

The Invention of Hugo Cabret – Brian Selznik

Okay For Now – Gary D. Schmidt

Catching Fire – Suzanne Collins

Brian's Hunt – Gary Paulsen

Framed – Gordon Korman

Holes – Louis Sachar
I then created a presentation to share with all of the Language Arts teachers that includes a picture and a brief synopsis of each book.
The plan is that we will vote on all of the same dates of the NCAA March Madness sweeps:
Sweet Sixteen – 3/24
Elite Eight – 3/27
Final Four – 3/31
Championships – 4/4
Students will vote in Language Arts class, and we will use an electronic survey (Google forms). They are asked to vote for either a) their favorite books or b) the most compelling books they would want to read. We will continue until we have one winner for our whole school.
I think this activity is going to generate a lot of interest in these books. I've asked the librarian to please use up any remaining budget to purchase a few more copies of this. I can't wait to report back on the wonderful developments!
10,974 total views, 2 views today