Hello all week 24 survivors! There are so many wonderful highlights from this week!
1. Gorgeous Weather! – This post would be entirely incomplete without mentioning the absolutely gorgeous weather we've been having this week in Wisconsin. It's amazing how 45 degrees in the middle of winter can feel JUST like 75 degrees in the middle of summer. No coat, windows down, tunes cranked – this is living! I went on a walk in the sunshine and soaked up every minute!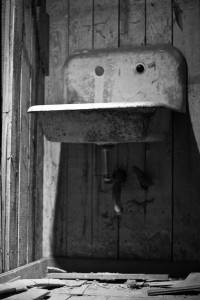 2. Symbolism – THEY GET IT!!! These are the moments we live for as teachers, I tell ya. My students recently read "Thank You Ma'am" by Langston Hughes, a short story about a large woman and a frail boy who learn that they have much in common. There is a scene where the woman tells the boy to go wash his face in her sink. I gave my students several close reading and deep thinking questions to accompany the text, and I held my breathe to see how they would answer #3: Explain the deeper meaning of Roger washing his face in the sink. What could this symbolize? On Wednesday, when we discussed the answers in class, students RAISED THEIR HANDS and reported proudly, "It represents him washing away his mistakes and starting over!" HALLELUJAH the clouds opened, angels appeared, and I practically screamed, "YES YOU GET IT!!!!" It's a proud, proud moment indeed when you realize your students are growing and learning and are able to do new things they could not do before your class. They get figurative language and symbolism, and I'm sending them off soon, ready for 9th grade!
3. Phonto – We have been experimenting with a new app called Phonto. The app allows you to put text on image, which means the students can make really neat collages, web memes, etc. We recently used this app to explore personality traits. Students know what personality traits are, but I wanted to elevate their language and have them use higher level choices – words like: ambitious, arrogant, serious, confident, strict, etc. Turns out the students have heard of the words, they have even used them, but they are very fuzzy on the exact definition (and they may have been using the word incorrectly). So I assigned a word to partner groups, then had look up the word, then create a collage of synonyms and pictures to explain the word. The results are pretty cool!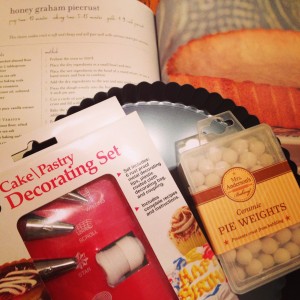 4. The Art of Pie Making – My grandmother was the master of pie making. I dreamed of her Pumpkin Chiffon pie for Thanksgiving. I recently decided it was time for me to take up the art. And when I do something, I go all in. So I've got some recipes and I recently purchased some new tools, too. I promised my family I would make then a Chocolate Cream Pie for our March Birthday celebration. Time to get practicing! Oh and I'm certain my husband doesn't mind being a taste tester 🙂 Pictured: Cook Book, Pie Tin, Pie Weights, Cake Decorating Tools.
5. Car Wash – Sing with me now, "Car Wash…. Working at the Car Wash, Yeah, OoOoOoooooohhhhH!!" I know it's ridiculous and silly that this should be a highlight, but getting my car washed was SUCH an awesome feeling! My poor old Corolla hasn't gotten a bath in maybe 6 months, and it was becoming dangerous since I couldn't see out the windows. It was a LOVELY day of 45 degrees, so I went for it. Ahhhh!! You see, this is being an adult. Getting excited over really stupid things like new appliances, a clean house, or a washed car.