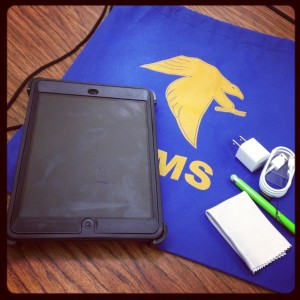 Day 2 of school, and we did the iPad rollout today! I was really impressed at the planning that went into this event. Our staff spent months planning for this day, and their organization really paid off.
Even though each student grades 6-8 will get an iPad, they started with just the 8th graders today. Throughout the day, they pulled groups of 25 students at a time. Each group took about 1 hour, but they rotated between 2 rooms to increase efficiency. Students started at the 'buffet line' where they picked up the required items, including iPad, Otterbox, cleaning cloth, stylus, charging cable, and 'technology bag' (a drawstring bag that we are calling a 'technology bag' because we don't want them to put anything but their iPad in it). Then the students sat down in Room 1 with the Technology Director as he walked them through initial setup of the iPad (setting the location, language, getting onto the district Wifi, etc.), and creating/logging into their iTunes account.
After that, the students moved to Room 2, where the Technology Instructional Coordinator assisted them with putting on their Otterbox, writing their name on the Otterbox in silver Sharpie, and going over basic handling, cleaning/care, and other expectations for the iPad (come each day with it charged, no decorating it or password protecting it, you are responsible for all activities/content both in and out of school, etc.). The students also logged into their new gmail email account.
Today was really just the basics of getting the iPads into their hands. We are waiting for Friday, when each student will finally have his/her iPad, to go over the academic use of the iPad. Each teacher has become an expert in one of 6 topics, and the students will rotate amongst the teachers to learn about each one. I am in charge of Google Calendars, which we are using instead of assignment notebooks this year. There are also stations for eBackpack, Google Apps, Gmail, Essential Apps, and Infinite Campus (our gradebook).
Yeah, my head is kind of spinning – but how amazing is this??? I am really excited for these students and the many possibilities they will have this year and beyond. I hope I can keep up!
2,086 total views, 1 views today