Being a middle school Language Arts teacher means reading LOTS of adolescent fiction. I do my best to stay on top of what is current and popular amongst my particular demographic of students. That way, I am able to make book recommendations to students and parents.
Even though we do SSR (Silent Sustained Reading) for at least 45 minutes each week, it's still difficult to find the time to read all of the books I want to read during the school year. I am able to read (and enjoy!) many more books during the summer by spending countless lazy hours suntanning in the backyard with the dog. My other favorite activity is to download the audio version and listen while I run. I have an account with Audible (through Amazon), and I also download a free YA book each week from http://www.audiobooksync.com.
This summer, I was able to read 7 books on my list: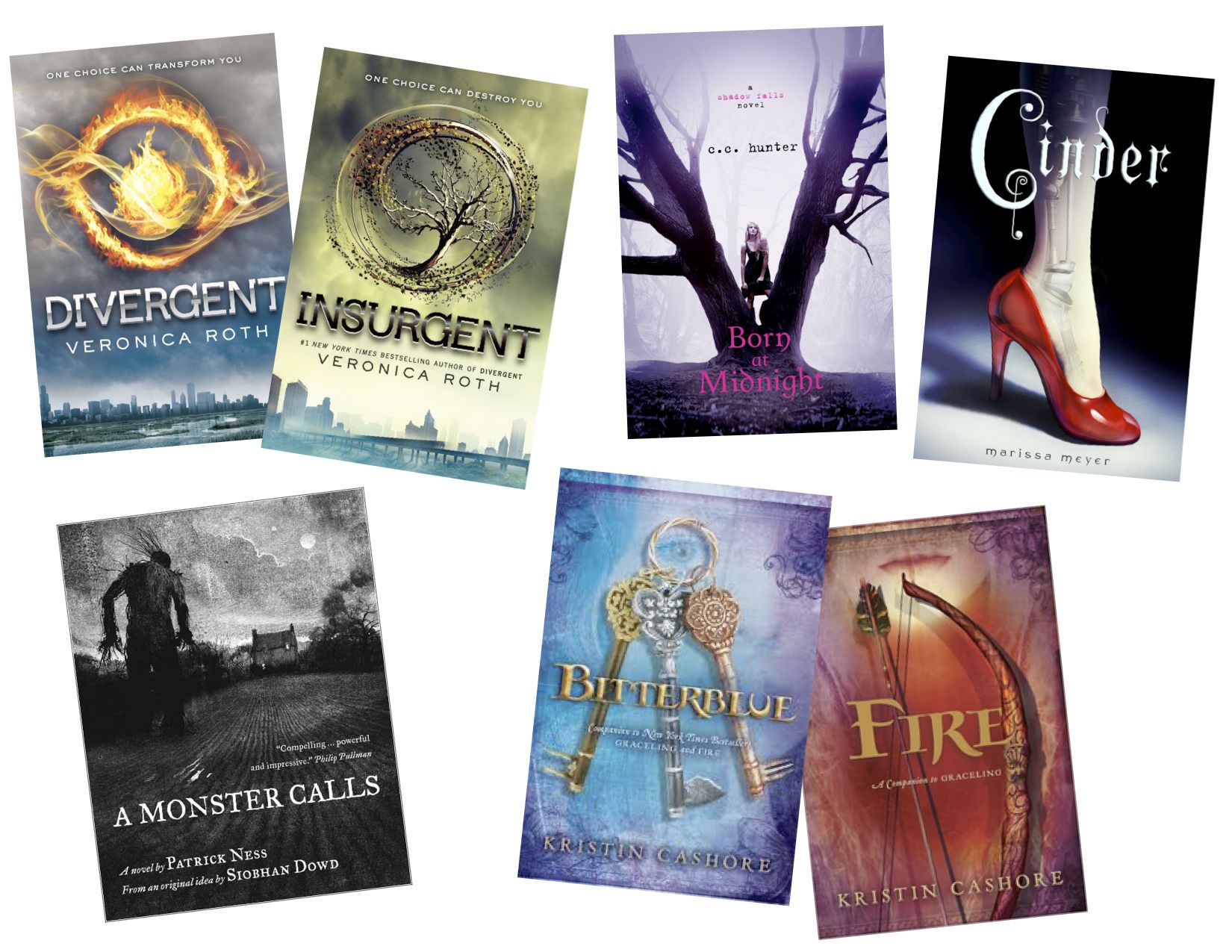 1. Divergent by Veronica Roth
In this science-fiction dystopia, humans are divided into 6 groups or 'factions': Erudite (intelligent), Amity (peaceful), Abnegation (selfless), Dauntless (brave), and Candor (honest). Once a person reaches the year of his/her sixteenth birthday, he/she must take a test to determine which faction to join permanently; this may mean leaving their own family. Beatrice Prior takes the screening exam, purported to determine one's aptitude for a particular faction, yet the results come back… inconclusive. Since Beatrice is intelligent, selfless, AND brave, she must choose a faction for herself. But this means deciding who she really is inside – a tough journey for all teens. Beatrice, or Tris as she is known amongst her new faction, is definitely an underdog that you will root for.
This novel is filled with romance, violence, secrets, mystery, suspense, conspiracy, technology – it's got it all! I would recommend it to any student, male or female, who likes a futuristic adventure! It is also being made into a movie, which I know increases its appeal to many students.
2. Insurgent by Veronica Roth
Having read Divergent, I simply had to keep going with Insurgent. Tris continues to find herself – no, put herself – in harms way as she works to protect the ones she loves. She is the perfect combination of brave, selfless, and intelligent, but she is becoming reckless with her erratic, unilateral decisions. Throughout the novel, Tris is in constant peril and struggles with loneliness, grief, doubt, and identity. There are definitely some shocking, compelling scenes that took me by surprise. I enjoy Veronica Roth's ability to give descriptive detail as well as paint a realistic picture of the characters' inner turmoil.
What a shocker of an ending! I can't wait to read Allegiant. I've already pre-ordered it 🙂
3. Born at Midnight by C. C. Hunter
The protagonist, Kylie Galen, is a teen struggling through a rocky time; her parents are divorcing, her friends are engaging in illegal activities, and her boyfriend doesn't have honest intentions. While grappling with these issues, she is caught attending a party where drugs and alcohol are present. Her mother, exasperated and looking for help, sends her to a camp for troubled teens at the recommendation of Kylie's therapist. Reluctantly, Kylie heads off to camp for the summer, expecting the worst. She soon discovers, however, that the camp is one for teens with supernatural abilities. Despite her plans of a quick summer of keeping to herself, Kylie makes some true friends, finds romance, and begins to search for the truth behind her own unique abilities.
I would not be able to recommend this book to my 8th grade students. Not only because it would likely not be found in our middle school library, but also because some parents would object to the topics of drugs, alcohol, and premarital sex.
4. Cinder by Marissa Meyer
Cinder is not your average Cinderella story. In this futuristic science fiction novel, humans, androids, and cyborgs co-exist. There is no glitter, singing rodents, or fairy godmothers. Cinder is described as a homely girl with mousy, stringy hair, no curves, and robotic appendages. She is extremely gifted and slaves away at the family mechanic shop, the only source of income for her step-mother and two step-sisters. One day, Prince Kai, heir to the throne of New Beijing, comes to visit the renowned mechanic Cinder for help fixing a broken android. Their paths now crossed, Cinder and Kai will soon find themselves in a dangerous and forbidden human-cyborg romance. Furthermore, their society is threatened by the brutal Lunar society who wish to engage in an intergalactic power battle. Cinder's mysterious past is the key to saving the future.
This is a fun read for anyone into romance, steampunk science fiction, suspense, and new twists on a classic. It is a fun mental challenge to compare and contrast the various Cinderella stories I have read and try to anticipate what will happen next – except you won't expect the twists and turns of this story!
5. A Monster Calls by Patrick Ness, inspired by Siobhan Dowd
I had no idea when I picked up this book that it would affect me so deeply. Based on a quick flip-though, it appears to be a children's book with pictures and prose-like text. Don't be fooled. This book deals with some heavy issues of grief, loss, and inner turmoil. The main character, Connor O'Malley, is a teen boy learning to be independent in the face of his mother's battle with cancer. To add insult to injury, he is mercilessly teased by bullies at school. Every night, Connor has the same nightmare filled with spinning, darkness, and screaming, One evening, at 12:07, a nightmarish monster comes to life and marches straight up to Connor demanding the one thing Connor is afraid of most… the truth.
I would recommend this to my students who are willing to read something more emotionally demanding. This book really forces you to face your own monsters – fears – and I think it is an excellent soon-to-be classic young adult book. It is a very quick read, probably one or two evenings. The pictures are absolutely breathtaking.
6. Bitterblue by Kristin Cashore
I fell in love with Cashore's Graceling last year, and I was very excited to read the other two books in the series. I loved that Katsa made a reappearance in Bitterblue. This book takes place 8 years after Graceling, and Bitterblue is now Queen of Monsea. The realm of Graceling, Bitterblue, and Fire is one in which some are born with special skills or 'graces.' These special skills could range from telepathy and sword-fighting to a photographic memory. The beginning of Bitterblue is very slow, carefully laying the groundwork and establishing the setting. Queen Bitterblue is completely sheltered in the castle, mired with boring paperwork, longing for an adventure beyond the castle walls. At night, she begins sneaking out in disguise, assuming a new identity, and getting herself into trouble. She meets new friends that help her to see the evil legacy that her father, King Leck, left behind.
I would recommend this to students who enjoy longer books (547 pages!) love puzzles, strong female leads, and a touch of romance.
7. Fire by Kristin Cashore
Fire is by far my favorite in Cashore's series. Fire, who's hair is the colors of flame, has an irresistibly beautiful appearance. Humans are stunned by her beauty, but fear and hate her for her ability to control minds. The fierce monsters of the realm are attracted to her blood and hunt her. Because of her special abilities, the royal family summons Fire to their castle to help King Nash defend against the traitors who would have his throne. Because of the awful, unspeakable deeds of her late father, Fire is loathed by Nash's son, Prince Brigan. It turns out that relationships that start as one of pure hatred, then grow into respect and much more, are the steamiest of romances. This is a gripping love story, intertwined in a fantasy adventure. My biggest criticism is that Fire, for a strong female heroine, definitely has some ridiculous and annoying weaknesses. It becomes nauseating how many times the author mentions that Fire has her period and is defenseless against the blood-thirsty monsters. Fire and Prince Brigan also have a more mature, adult relationship. The slow burn is excruciating at points; you just want Fire and Brigan to be happy together!
_______________________________________________________________________
As you can probably tell from my list, I really enjoy reading YA literature. I gravitate toward fantasy, science fiction, and strong female leads (a la the Hunger Games Series by Suzanne Collins). I really owe it to my male students to catch up on more novels with male leads – that was my project last summer when I read Bruiser by Neil Shusterman, Peak by Roland Smith, The Absolutely True Diary of a Part-Time Indian by Sherman Alexie, and The Invention of Hugo Cabret by Brian Selznick.
So what will I read next? Here is a list of YA book recommendations I have received from students:
1. The Host by Stephanie Meyer
2. The Fault in Our Stars by John Green
3. Matched by Allie Condie
4. Ender's Game by Orson Scott Card
5. The Secrets of the Immortal Nicholas Flamel by Michael Scott
6. The Unidentified by Rae Mariz
You can follow me on GoodReads –> Click the widget on the right 🙂