Yay! The Back-To-School Fairy stopped by Room 204!
I'm very excited about a few things I ordered in the spring. Back to School shopping is such an exhilarating activity – it's something I've loved to do ever since elementary school. Ahhhh…. the smell of new supplies! It's better than roses!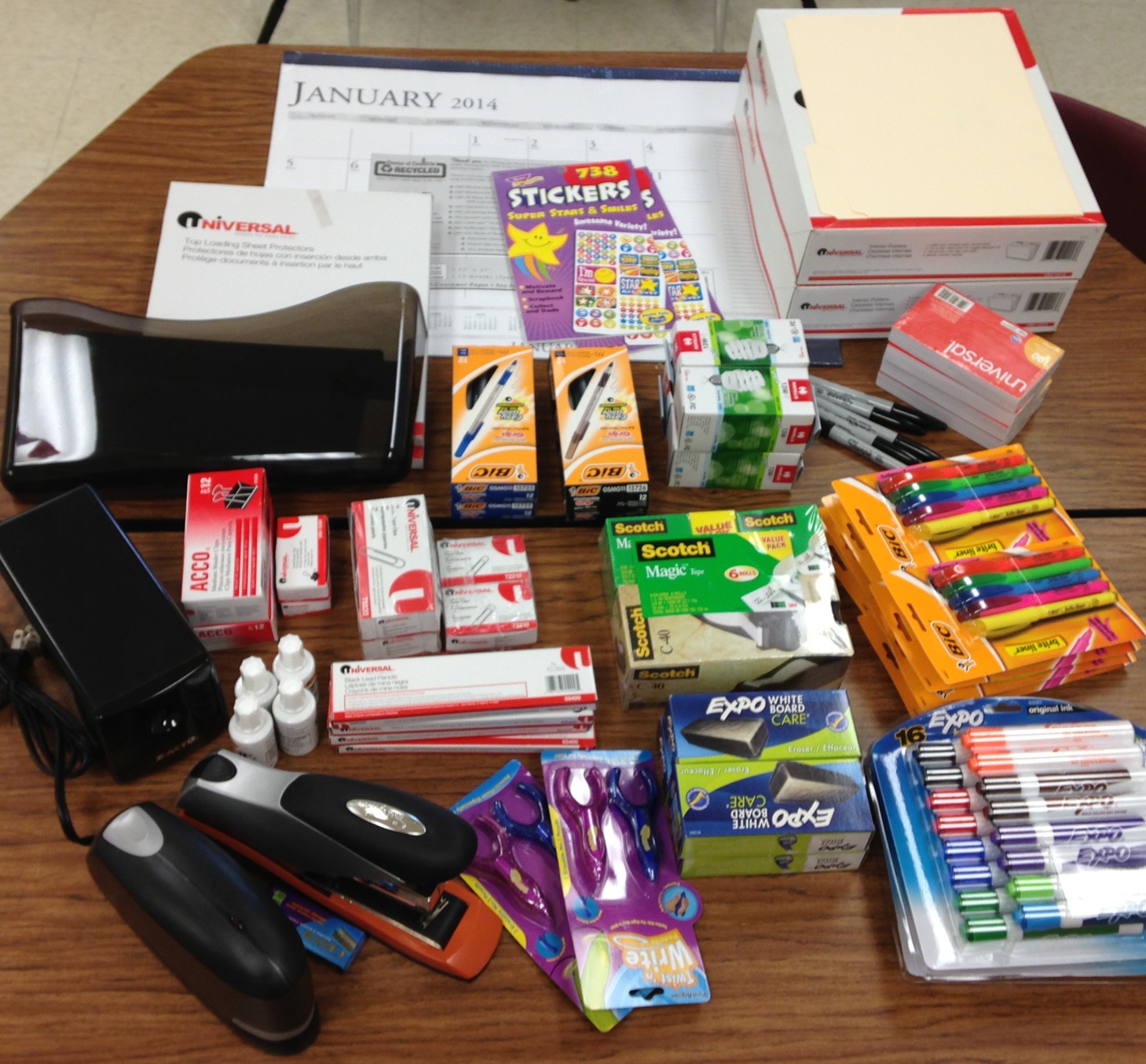 What I ordered:
Desk Calendar
Page Protectors
Manilla Folders – one for each student
Stickers (yes, even 8th graders love stickers)
Black Pens
Blue Pens
Lightbulbs (I have several lamps in my room for when we are using the SMARTBoard and the room lights are off)
Highlighters
Sharpies
Index cards
Invisible Tape + Dispenser
EXPO Markers for my whiteboards
Whiteboard erasers
Twist-n-Write Pen/Pencil – have you ever tried these? They are fantastic!
Pencils
Paper Clips
Binder Clips
Whiteout
An ELECTRIC Stapler! I squeal with excitement!
An ELECTRIC Pencil Sharpener! Be still my heart!
Another crazy super-powered stapler that can do 30 sheets at a time (P.S. WHY do my students always manage to break these? I buy 2 new ones every year!)
A Magnetic File holder (This is where I have students turn in their work)
I have a few things yet that I will be purchasing with my own money:
Candy (incentives). Since I must be mindful of nut and dairy allergies, I usually get Smarties, Dum-dums, Jolly Ranchers, Peppermints, etc. Even those aren't safe from allergies, however. I had a student who was allergic to food coloring 🙁
Granola bars and snacks for the students who forgot breakfast/lunch.
A silver Sharpie so I can try out this new idea I saw on Pinterest for a Reading Graffiti Wall. Expect a detailed post once I have finished it!
Some fashion duct tape so I can make flags on my pencils. They always walk off!
I'm curious to see how much of these supplies I actually use this year, given that we are going one-to-one with iPads. I know there will still be a significant amount of handwriting, and we aren't going completely paperless yet. I imagine my supply list will dwindle each year as we get used to relying more on our electronics.
Do you think there is anything I missed? Do you have some Back-To-School items that you always purchase?