I have an idea that I am excited to try out this fall. Recently, I learned about two new apps that I think will be very valuable in my classroom. Both of them offer a virtual reality experience of sorts. I think this will be ideal for students who need a break from 'reality.'
Teachers – you know when you have a student who just seems like they need to take a deep breath and start fresh? Perhaps they are overwhelmed, emotional, or anxious. This is when I would invite them to take out their iPad (or borrow mine) and have a 3 minute Virtual Reality escape. This will replace my old 'go to' techniques of "Why don't you go get a quick drink?" or "Please take this (meaningless) super important document to the office for me (so you can calm down and walk it off)." These apps will hopefully occupy their mind and offer them a brief respite from what is leading them to be off task and unfocused (notice I didn't say 'naughty?').
So here are the apps I am thinking of using for Virtual Reality Escape in the classroom. Let me know if you have heard of any others I can add to my list!
1. Sphere (TourWrist) 360 Degree Panorama Photography – by Spark Labs FREE
This app is FREE and totally awesome. You can take yourself to some amazing places throughout the world from world famous cathedrals to tropical vacation destinations. As you twist and turn your iPad/iPhone, you get a 360 degree panoramic view of the location – even the sky and ground. I must look like a real fool as I swivel in my chair and contort my body to see every inch of the awe-inspiring views, but I just don't care! I love looking at Sphere just before bed so I can dream of a vacation.
Of course, there are academic purposes for this app as well. Perhaps there are some locations you are currently studying in the classroom, and your students would love to visit in 3D! My only complaint about this app is that not all of the links work for me all of the time. Hoping some bug fixes are on their way!
2. Sky Guide: View Stars Night or Day – by Fifth Star Labs LLC $1.99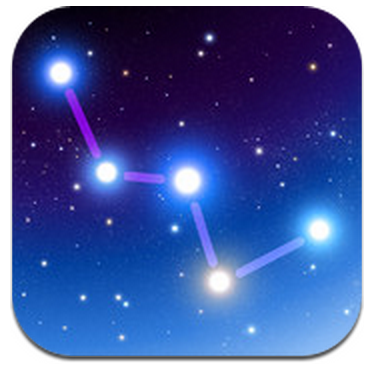 This app was gifted to me, but normally costs $1.99. I honestly had no idea how much I would enjoy it. Basically, the app helps you to identify celestial objects (stars, planets, constellations, etc.). You simply point your iPad/iPhone at the sky, and voila! The app includes ethereal music to accompany your 'Out of this World' experience, but I often turn off this feature. As the title says, this works in the daytime, too. Students can imagine launching themselves into the atmosphere, flying through space, across the universe!
Of course there are real academic uses here as well – be sure to share with your school's Science department!