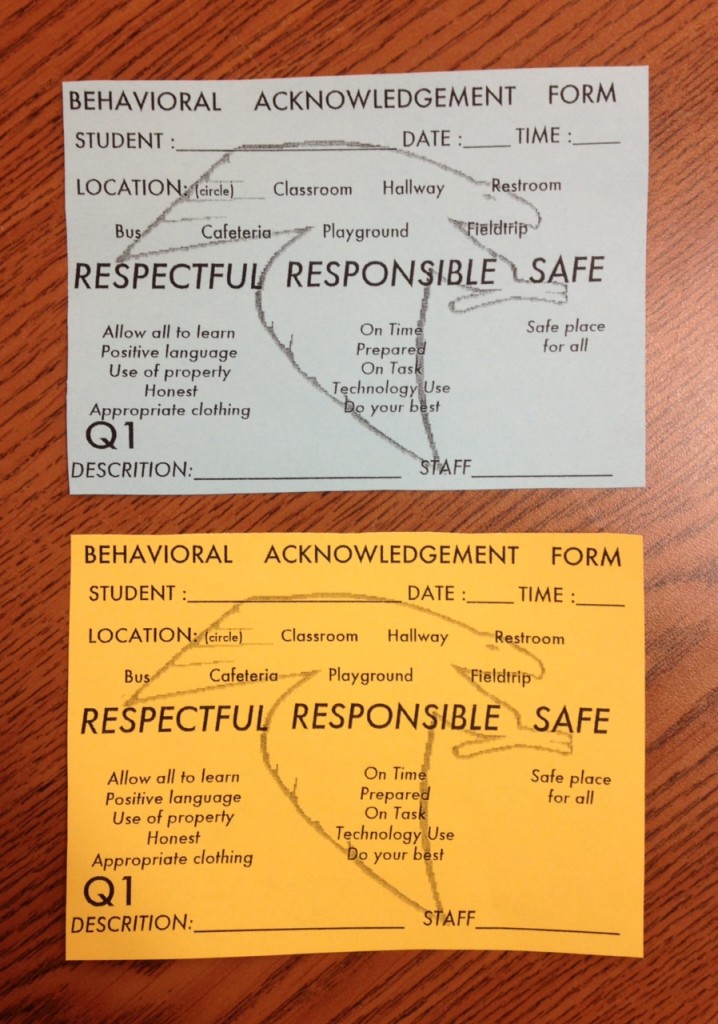 Have you heard of PBIS? It stands for Positive Behavior Intervention and Supports. It is the behavioral component of the RtI Response to Intervention system. The idea is to promote positive behaviors rather than focusing on the negative. Instead of saying "We don't run in the hallway," you would say "We walk in the hallway." It may seem like a minor difference, but it is important to focus on what students CAN do, point out what they are doing RIGHT, rather than on the undesirable behaviors. Truly, 99.9% of the students in my school are extremely well behaved. I have to remember that the one kid who struggled today does not represent my whole class – I need to focus on what is going right!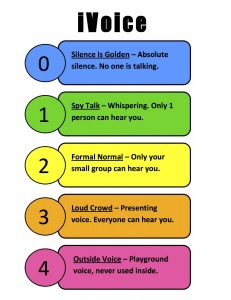 PBIS is important because it creates a system in which you systematically teach students what you want them to be doing. For example, I might say to my class, "Quiet down." What if they aren't sure what quiet sounds like in a classroom? What if no one ever explained it to them? That's where a PBIS lesson would come in. I use the iVoice system in my classroom, and we start the year by practicing each of the voice levels so that I know and the students know exactly what is expected. You may have seen my previous post about how we start the year doing a tour of the school, discussing expectations, and practicing how to behave appropriately at each location – some kids just honestly need a demonstration.
We have a PBIS time built in to our schedule. Every Wednesday, we have 30 minutes in which the whole school can focus on PBIS initiatives, including building teamwork and positive relationships and teaching (or reteaching) behavioral expectations. Character building lessons are part of this time, such as a lesson on Fairness and Trustworthiness. We also discuss the future quite a lot – goal setting and dream planning time. I love that we do this – it has a really big impact on so many students.
An integral part of our PBIS system at our school is the use of blue slips and yellow slips (our school colors). The text on the slips is exactly the same – it shows our PBIS motto (Be Respectful, Responsible, and Safe), and lists the expected behaviors. The blue slips are the positive slips – we give them to students when we celebrate them doing something positive. The yellow slips (think 'caution!') are a behavioral modification slip – we give them to students who need to make a better choice. Students can save up the blue slips and buy fun things from our school store, from erasers and candy to backpacks and gift cards. The yellow slips, on the other hand, go to the office and get recorded. If a student builds up 3 within 10 days, it becomes an after school detention. Students hate getting this, and sometimes all you have to do is mention the yellow slip or place it on the desk as a warning, and the behavior will get corrected right away. The office uses the information on the yellow slips to help target areas needing more attention and intervention in our school. Perhaps there is a trend of poor behavior in the hallways – we use PBIS time to reteach our expectations, watch a fun youtube video, or anything else to help communicate our message of being Respectful, Responsible, and Safe for the good of our school.
I know PBIS has a huge impact on students' academic behaviors as well. Any good teacher knows that students can't learn in an environment that isn't respectful, responsible, or safe. When students buy into the system, they are more comfortable with the procedures and expectations of our school, and the students thrive on that comfort and safety.
So my goal is to give out 5 blue slips (positive) for every 1 yellow slip (negative). And if I give out a yellow slip – let's say to Johnny for being disruptive in class – I make it my goal over the next few days after that to notice him behaving appropriately and reward him immediately to help get him back on track.
Signing blue slips got a little tedious, so I just purchased a self-inking signature stamp. Can I just say I am really excited for it to arrive?!?! I can't wait to post a picture!
Do you use PBIS in your school? I'd love to hear about your system – we are always looking for ways to streamline and improve things. Please share in the comments!
5,490 total views