This Saturday, I will be presenting my research at the Reading Research Symposium at Cardinal Stritch University. I am very excited and grateful for this opportunity to share my research and findings with other professionals in the field. Conducting research and writing a dissertation is one thing, but being able to collaborate, get feedback, network, and gain a new perspective really makes all this hard work feel worth while.
The following is my poster presentation for this session: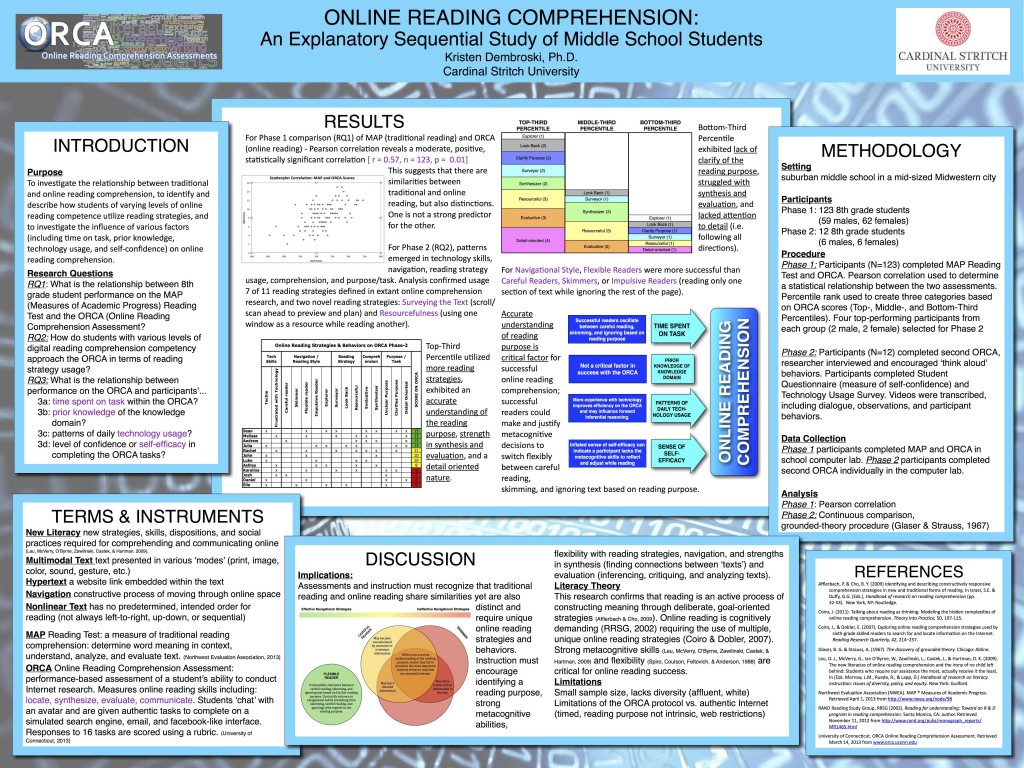 I will be discussing my investigation of online reading comprehension via the ORCA assessment tool created by the University of Connecticut.
Below is my favorite (and most informative and interesting) flow chart created from the results of this research. I think it is very telling about the kinds of navigational habits that are found to be most successful for online reading comprehension:
Summary of Findings and Visual Representatino of the Effectiveness of Four Navigational Profiles Used by Phase 2 Participants
And here are a few more flow charts and figures that help to visually explain the results of this research. Fascinating stuff, right? If you have any questions about my research, I'd be happy to answer them – please ask away in the comments below.
Pie Charts Representing the Number of Participants who Engaged in Specific Navigational / Reading Style – by Percentile Grouping. For each chart, N = 4
Flow Chart representing the Number of Participants in each Percentile Third Group That Engaged in a Reading Strategy or Behavior (N = 12)
 Summary of Findings Regarding Variables that Influence Online Reading Comprehension