I teach Language Arts, which includes reading, writing, speaking and listening, and language. I am SO passionate about writing, because communicating is an innate desire of every human being. In my classroom, we write about what we are reading, and read about what we are writing – they go hand in hand.
Every year, I am blessed with a student or two who is gifted at writing. They love it. The write short stories, fanfiction, keep a journal – writing is a part of their soul. REALITY CHECK – this is NOT true for 99.9% of my students. To them, writing is unnatural. Writing is hard. Writing is…impossible. As their fearless teacher, it is my job to change attitudes, inspire minds, and foster change. I must make the impossible possible.
To achieve this feat, I must work a little magic. Throughout my years of teaching, I have learned how to scaffold writing and offer various levels of support (universal, targeted, individual) so that each of my students can find a measure of success. I also follow the TELCon writing method, which is a Common Core aligned writing structure for utilizing evidence in expository writing. TELCon stands for Topic, Evidence, Link, Conclusion. In my district, we use TELCon writing in every class, for every kind of writing except for narrative/creative writing, grades 6-12. Over their years of schooling, students gain confidence and master this structure with the support of every single one of their teachers.
In my class, I've developed a scaffolding grid – a chart that helps students focus on one element of writing at a time. This has proven to be a highly effective measure of support for my struggling writers and students who struggle to maintain focus and attention in the classroom. I use various other writing templates as well, depending on individual student needs.
If you would like to learn more about the TELCon writing structure, this is a very helpful product that explains it, step-by-step.
Cross-Curricular Prompt Writing: Middle & High School: Common Core Organization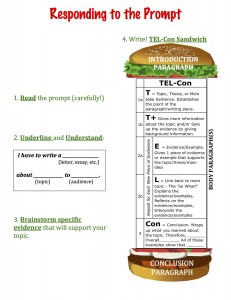 The products/units in my Teachers Pay Teachers Store that utilize the TELCon writing structure are showcased below:
Argumentative Writing Instructional Workbook Grades 7-10: The Paper Chain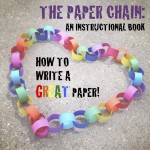 Argumentation Writing Unit: Common Core: Online Collaborative Discussion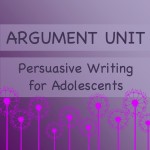 Scholarship Letter: Fun and Authentic Persuasive Writing Unit TEL-Con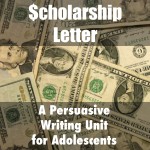 Writing Desk: Reference Sheet for Editing & Revision Writing Workshop Grades 6-9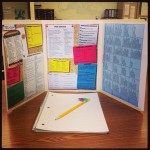 Glory Civil War Movie Cross-Curricular Writing Assignment + Modified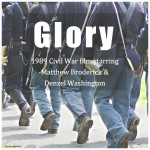 Narrative and creative writing are also important components of the Language Arts curriculum. Structured writing has its place, but students also need the freedom to explore ideas and follow their stream of consciousness. We do creative and/or narrative writing every quarter as well, especially for reading responses. The following units incorporate narrative or creative writing:
Descriptive Creative Writing: Show Me! 6 Traits, Lesson Plans, Common Core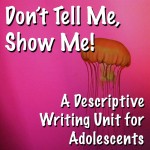 Fingerprint Poetry Writing Template Grades 4-12, Unique Writing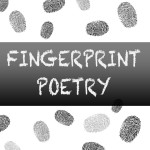 Reading Response / Fun Book Report: DVD Case or Movie Poster, Grades 8-12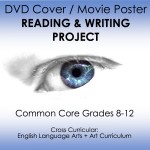 Disgusting Creative Writing Challenge, Grades 7-12 FREE
11,143 total views, 1 views today